'Married At First Sight' 2015 Spoilers: Which Couples Are Getting Divorced Six Months Later? Season 2 Reunion Recap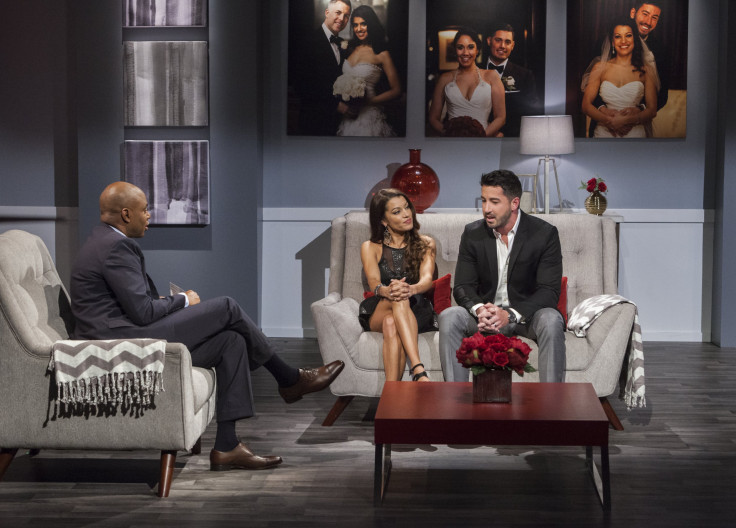 "Married At First Sight" Season 2 ended with one divorce, but the reunion revealed more splits. The two-hour special revealed where the couples were six months later, and they all had one thing in common: divorce. The experts watched the couples reveal to host Kevin Frazier where they were currently and how their relationships fell apart.
Before anyone spoke, sociologist Dr. Pepper Schwartz revealed that the experts were sometimes disappointed when watching "Married at First Sight." "I'm shocked…there was a couple times I just wanted to leap through the TV set and shake them and say 'what are you thinking?'" Dr. Pepper said.
Sean and Davina
Sean Varricchio and Davina Kullar were the only couple to choose divorce at the end of the initial experiment. Sean revealed in his solo interview that he took the promotion that he and Davina fought over. He said he was intimidated by her and felt a little bullied. However, he felt bad about hurting her. Sean wasn't as prepared as he thought he was for the experiment. He started to tear up just thinking about how he hurt her feelings.
In Davina's solo session, she wished her ex the best, but she didn't like him. "I honestly can say that I don't know who he is," she said.
She didn't believe he was being genuine. As she spoke, her and Sean's wedding photo fell off the wall behind them. She felt that it reflected the process they went through. She didn't believe he knew what he wanted. When Kevin said that Sean teared up, Davina said that she caught Sean in many lies.
She didn't believe that Sean had any interest in her. Even on their honeymoon, he just talked at her rather than to her. He never asked her about herself. Sexologist Dr. Logan Levkoff asked if she was responsible for anything in their relationship. Psychologist Dr. Joseph Cilona asked if she took any accountability, and Davina said it was all about Sean not knowing what he wanted.
In their joint interview, Sean apologized to his ex-wife. "I know that through everything that my responses made you feel rejected and that isn't something that I wanted to do," Sean said.
Davina said she didn't know who Sean was, and Sean said the same for her. They talked about Sean's dishonesty. She asked why he wanted to be on the show. Sean revealed that he went on the show after seeing childhood friend Doug Hehner's success in Season 1.
They watched their wedding and both agreed it was a good day. Sean said that he didn't have any animosity, but Davina said that he'd been calling her Satan. Sean said that Davina made everything about her too often.
Logan asked how many nights they spent together since Sean refused to commute on days he had to work. They revealed that they only spent around 10, maybe 12, nights of their marriage together. "The experiment didn't fail," Logan said. "They failed the experiment because the time wasn't put in."
Davina and Sean ended on a good note. "I hope that all of the desires of your heart are what you receive," Davina told Sean.
"I want you to find somebody that sweeps you off your feet," Sean said.
Jessica and Ryan D.
Jessica Castro knew that six weeks with Ryan De Nino wasn't enough to easily determine their future, but they decided to stay married and see if they could make it work. They only made it four months.
In her solo interview, Jessica revealed that Ryan moved out after the experiment. He said he needed time away from her. They were separated on Valentine's Day because he was "busy." She found a Valentine's card from another woman in his apartment after the holiday. She believed he cheated on her.
She explained that she watched the scenes of her and her husband fighting with her parents. She said it was awkward and her mother was "destroyed." Jessica said she was happy that she joined the experiment though. She said it was a good lesson and she was able to work on her communication skills.
"I'm not afraid to say what I feel, and I feel like I'm a different Jessica -- a better Jessica," she said.
In Ryan's solo interview, he said that the last two weeks of the experiment were perfect and staying together seemed like the right choice. Ryan said he couldn't love her the way she needed. He said he was apologetic for what happened.
"I've done damage to my family," he said. "It's upsetting. It's really upsetting, the image that was put out because my actions."
Ryan said that they both had their faults. She couldn't communicate and he didn't know how to react. He added that his actions were never justified and he knew that.
In their joint interview, Ryan said their personalities couldn't mesh because of their communication differences. He apologized to her, but Jessica didn't buy it. Jessica said that she never really got an apology after their major fight on the show.
Ryan tried to fight back by saying that she didn't say anything about his grandmother's unveiling. He said that he'd posted on social media about it for days and didn't hear from her until a few days later. Kevin pointed out that as his wife, Jessica shouldn't have to look on his social media if she wants to know about Ryan's life.
Ryan admitted that he hated watching himself on the show, and it even made his mother cry. However, Ryan explained that he didn't feel Jessica was being authentic. "To me, Jess has been an actress this whole time," he said.
He went on to say that they just couldn't make it work. "'Cause Ryan was trying to make it work with someone else," Jessica said. "That's why it didn't work."
"We need to take a break," Ryan said and tried to walk out. Kevin asked if Ryan was seeing someone else, but Ryan claimed that it was just a card. Ryan calmed down and decided not to leave.
They had to rewatch their wedding, which was fine, but then they had to watch their major fight over money. Ryan said he was sorry that he couldn't make their marriage work, but he maintained that he didn't steal any of their wedding money.
Jessica still didn't believe him. Jess pulled out a $100 bill and put it in his lap. He got up and walked out. "Now he knows what it feels [like] to be disrespected," Jessica said.
Jessica ended their joint interview by herself. "For me, 'divorce' is not in my vocabulary," she said, repeating something she stated in the first episodes. "Unfortunately, it is now."
The "Married At First Sight" Season 2 reunion special did not address the recent order of protection that Jessica filed against Ryan or the Ryan's alleged death threats to Jessica.
Jaclyn and Ryan R.
Jaclyn Methuen and Ryan Ranellone had the least dramatic solo sessions. They both seemed very happy. When they came out for their joint interview, Ryan revealed the shocking news: "Me and Jaclyn are no longer together," he said.
Ryan said that he didn't make enough of an effort. Jaclyn revealed that she would've done anything, even commuting to Long Island.
Ryan said they were a great match, but he might not have been ready for this. "I let you down quite a few times and you don't deserve that … you've come so much further than I have," Ryan said. "You made leaps and bounds."
Jaclyn said she was trying not to be angry, but she was truly hurt. After watching the clips from their honeymoon, she thought she might be a little too much for him. Logan assured her that there really isn't anything wrong with being loud and opinionated.
Ryan said that he was impressed with Jaclyn and the way she embraced his family. They talked fondly about their experiences and even smiled watching the footage. "I never wanted Jaclyn out of my life," Ryan said.
Logan asked if there was a second chance for them. "I don't want Jaclyn to slip out of my hands," Ryan said.
Jaclyn said that it was too late and he didn't put in enough effort. Ryan said they talked on the phone for an hour every time they spoke and they always laughed and had a good time.
"He hurt me in every possible way and he let months go by without reaching out to me," Jaclyn said. Ryan said that he was readjusting to his life at the time.
The experts asked them to take another chance. She said that she knew that he was a good man who wasn't trying to hurt her. "If I could earn your respect back, I'd be a happy man," Ryan said. "Let's just give it a shot."
"Okay," Jaclyn said. Maybe they won't end in divorce after all.
All Together Now
For the first time, all three couples were on screen at once to comment on each other. Ryan D. and Jessica hugged each other, and Ryan D. said that he knew he deserved what she did with the $100 bill. He said that he learned a lot about himself while Jess learned to speak up.
While taking questions from Twitter, Sean said that he cried the most. Davina also revealed that she didn't wear the necklace Sean gave her on their wedding anymore. However, she was still wearing something special. Jessica bought necklaces that said "embrace change" for all the "Married at First Sight" women. They weren't walking away with husbands, but they had new best friends.
What did you think of the end results? Were you shocked that everyone split up? Sound off in the comments section below!
© Copyright IBTimes 2023. All rights reserved.