Marysville-Pilchuck High School Shooting: Students Return To Class, Washington Governor, Teens Show Support On Twitter, Facebook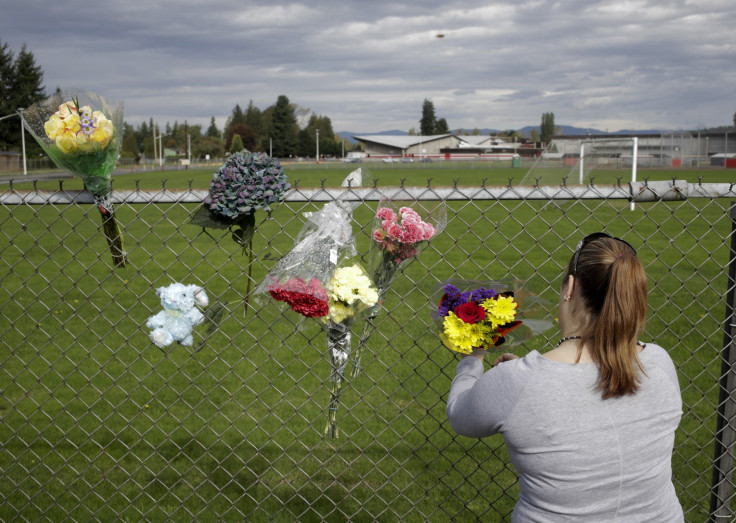 Hundreds of balloons, flowers and supporters wearing red and white greeted students Monday morning as they returned to Marysville-Pilchuck High School for the first day of classes since the Oct. 24 shooting that claimed four lives. It was scheduled to be a short day, starting with a 10:30 a.m. assembly followed by lunch in the gym. The cafeteria, where 15-year-old freshman Jaylen Fryberg opened fire on his friends before fatally shooting himself, was closed.
The Washington school's Monday schedule allowed time for students to visit classrooms where they may have left any items during the evacuation on Oct. 24, USA Today reported. An open house in the stadium was scheduled for 1 p.m., to be followed by dismissal at 2:15 p.m.
On Tuesday, the six-period bell schedule was expected to be normal except for lunch, which was to be served in the gym or small cafeteria. The big cafeteria may be remodeled. "The kids are saying loud and clear they don't want to go back there to the old cafeteria," Marysville School District Superintendent Becky Berg told the Marysville Globe. "[Figuring out] what to do with that space will take some time."
There were an additional 15 counselors scheduled to be on campus, MYNorthwest.com reported. Student attendance was recommended but not mandatory.
Across the state, people wore red and white – Marysville-Pilchuck's colors — at Washington Gov. Jay Inslee's request. "When students and staff walk back into their school, I want them to know that nearly 7 million Washingtonians are standing with them," he wrote on his official Facebook page. "I'm asking people in every corner of the state to wear red and white to support the Marysville and Tulalip communities. Together, we are Marysville Pilchuck."
But as students returned to the school, six were missing: Fryberg, Zoe Galasso, Gia Soriano and Shaylee Chuckulnaskit died from their injuries. Andrew Fryberg was in critical condition at Harborview Medical Center, the Seattle Times reported. Also at Harborview was Nate Hatch, who remained in satisfactory condition Monday. Hatch and Andrew Fryberg are Jaylen Fryberg's cousins.
Tweets from the school showed the community reaction:
© Copyright IBTimes 2023. All rights reserved.