'MasterChef US' Season 6 Finale Recap: Who Brings Home The Title?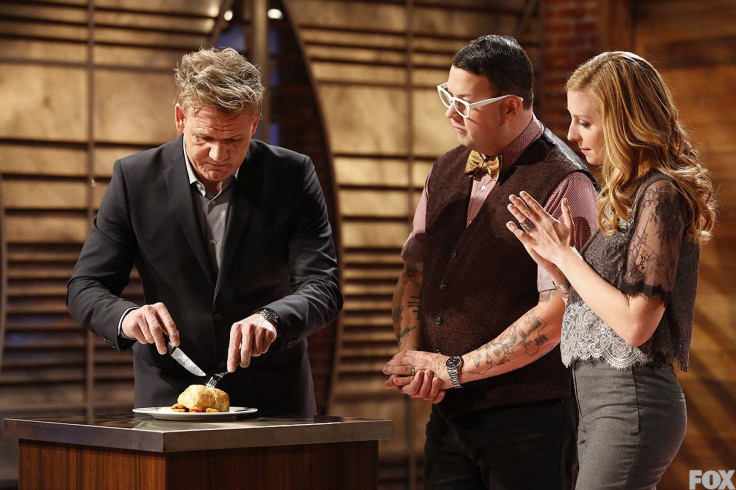 The Season 6 finale of "MasterChef" has finally arrived. Derrick Peltz, drummer from Florida, and Claudia Sandoval, an events organizer from California, are the only two remaining contestants. The two of them battle it out over three rounds, to determine who is America's next "MasterChef."
According to "MasterChef" tradition, the former contestants from Season 6 return to support the two finalists. Likewise, both Claudia and Derrick's families are flown in to witness the grand finale.
Without any more suspense, the competition gets under way with the appetizer round. Derrick makes a spiced pork belly with watermelon prepared three ways. He makes a watermelon sauce, pickled rind and flavor-infused watermelon squares.
Meanwhile, Claudia goes back to her Mexican roots and creates huitlacoche tamales with crispy pork chicharon, cactus salsa and avocado crema. She elevates common Mexican food into MasterChef levels and the judges are amazed. However, Derrick's dish also makes a complete home run.
Both appetizers are amazing. The competition is wide open and the home cooks move on into the entrees. Derrick chooses to make a pan-seared venison with root vegetables and huckleberry sauce. His wow factor comes from a delicate and creative puff pastry cage.
Derrick's dish looks beautiful and tastes amazing. The judges think that every element is perfect. It's now up to Claudia to match her competitor.
The feisty Latina decides to make a grilled swordfish paired with some chayote and chick peas cooked two ways. She takes a risk with the swordfish, which can easily overcook. Luckily, she manages to create exquisite grill marks, while keeping the fish moist.
It's still anybody's game as the contestants enter the dessert round. While things have been smooth-sailing thus far, the dessert round gives both contestants a little bit of trouble.
Derrick makes his cake batter a little too thick and he ends up having a hard time getting it out of the pressurized canister. He wastes 15 minutes getting his 30-sec sponge cake sorted. Meanwhile, Claudia accidentally splashes water into her flan as she puts it into the oven. She is forced to make a new batch to replace the ruined flan.
Claudia serves a hibiscus poached pear and key lime flan while Derrick comes up with a green tea cake with lemon mousse and raspberry sauce.
Yet again, both dishes impress all three judges. No clear winner could be seen in one of the tightest "MasterChef" finales ever seen. Finally, the judges step out to reveal their decision. they announce thta Claudia Sandoval is the winner of "MasterChef" Season 6.
She takes home a trophy, $250,000, a cookbook publishing deal, as well as the prestigious "MasterChef" title.
© Copyright IBTimes 2023. All rights reserved.