Mayor Clinton? Hillary Will Win Election For NYC Mayor Against All Opponents, Polls Show
The mayor of New York City just may be the second most powerful elected position in U.S. politics, only behind the presidency. Located inside City Hall in the heart of Manhattan's bustling and brightly lit Broadway, the Big Apple's mayoral office is arguably the most influential in the world.
And it looks like Hillary Clinton has her eyes all over it.
The former Democratic candidate who won the popular vote in the 2016 presidential election but lost in a shocking electoral upset to President Donald Trump has reportedly been flirting with the idea of a run for New York City mayor in the upcoming election set for Nov. 7. The former New York senator and two-time presidential candidate returned to her hometown of Chappaqua, New York after the national election, but has been seen attending several Broadway musicals just steps from her potential-next office and traveling throughout the city's Burroughs many nights over recent weeks.
During each of her surprise appearances, theaters have erupted in standing ovations.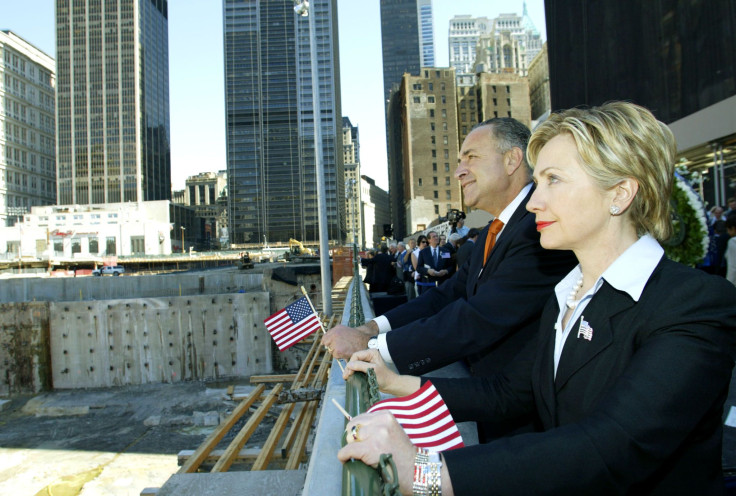 If Clinton intended on launching yet another campaign for elected office, she'd need to announce rather soon, as well as make some fundamental changes to her and former President Bill Clinton's current living situation. In order to run for New York City mayor, one must be a city resident by Election Day, meaning the Clintons would need to establish permanent residency in one of the five boroughs by Nov. 7.
If she did decide to run, the odds appeared to be ever in Clinton's favor. Though incumbent Democratic Mayor Bill De Blasio – who endorsed Clinton for president in 2016 – has yet to announce whether he'd seek reelection, polls showed Clinton would defeat him regardless, and was leading against all other hypothetical candidates. Clinton hasn't yet released a statement on the issue whatsoever, though she has reportedly been taking calls on the matter and listening to some of her closest advisors pitches for the run.
It's unclear whether Clinton has made the move to the Big Apple: public records didn't show either politician having purchased property in the city in recent months. The Clintons may not have used their own identities in property listings, however; Clinton's daughter Chelsea, who lives just moments away from Broadway in a sprawling Madison Square park condominium, also did not have any property listed in her name, according to a New York' public records search.
Chappaqua is nearly an hour drive away from Manhattan, though the former secretary of state could easily be shacking up with her daughter for the time being. Dina Lewis, a Douglas Elliman broker handling the property prior to Clinton's purchasing it, described the building as a "luxury fortress" with plenty of space for all of the Clintons, and then some.
"One spouse can be fast asleep while the other has a huge dinner party," Lewis told New York Daily News in April 2013. "All on one floor."
What's next for Clinton, who handedly defeated Trump in their shared home state during the election, remained unclear. However, Clinton dodging the question while continuing her surprise appearances throughout the city was seemingly all too similar to the silence and curiosity about the politician's plans before her campaigns in 2000, 2006, 2008 and 2016.
© Copyright IBTimes 2023. All rights reserved.