Mayors Blast Trump For Claiming 99% Of US Coronavirus Cases Are 'Totally Harmless'
KEY POINTS
President Donald Trump on Independence Day falsely asserted 99% of U.S. COVID-19 cases are "totally harmless"
Mayors in cities hard hit by the current COVID-19 surge blast Trump for this claim
There are 2.89 million confirmed COVID-19 cases in the United States
Mayors in some of the cities now reeling from record-breaking spikes in new COVID-19 cases -- and seeing more deaths -- are assailing President Donald Trump's false statement 99% of cases are "totally harmless."
Trump's Independence Day address in Washington D.C. continued his tirade against the "radical left," which he assailed in his speech the day before at Mount Rushmore. A major difference on Saturday was Trump's unleashing of false claims about the pandemic in a renewed attempt to downplay the frightening surge in cases since Memorial Day on May 25.
"Now we have tested almost 40 million people," said Trump. "By so doing, we show cases, 99% of which are totally harmless. Results that no other country can show because no other country has the testing that we have, not in terms of the numbers or in terms of quality."
By the end of Independence Day, COVID-19 had inflicted 2.89 million confirmed cases on the United States, as well as more than 132,000 deaths. The toll on Independence Day alone was 56,268 more cases compared to Friday and more than 600 deaths.
On July 4, both Florida and Texas posted their biggest daily spikes in new confirmed cases. Florida admitted to 11,443 new cases and another 9,999 on Sunday. Texas was hit by a record 8,258 new cases Saturday and 3,449 Sunday.
California reported 5,410 new cases Sunday. Arizona reported 3,536 new COVID-19 cases on the same day. Arizona, California, Florida and Texas together account for more than half of all post-Memorial Day surge in cases.
Florida is the hardest hit of the group and Miami-Dade County Mayor Carlos Gimenez took issue with Trump's calling the pandemic harmless. Gimenez told CBS' "Face the Nation" the disease "is not harmless. No, absolutely not. I mean that's why, if it were harmless, I wouldn't be taking the steps that we're taking here in Miami-Dade."
On the Fourth of July, Miami-Dade recorded a new single-day spike in cases, 2,418, and four new deaths to bring the total death toll in the county to 1,038. Miami-Dade accounted for 21% of Florida's total cases on July 4 and third of the 12 deaths statewide.
Since the start of the pandemic, 190,052 people have tested positive for COVID-19 in Florida. There have been 3,803 deaths.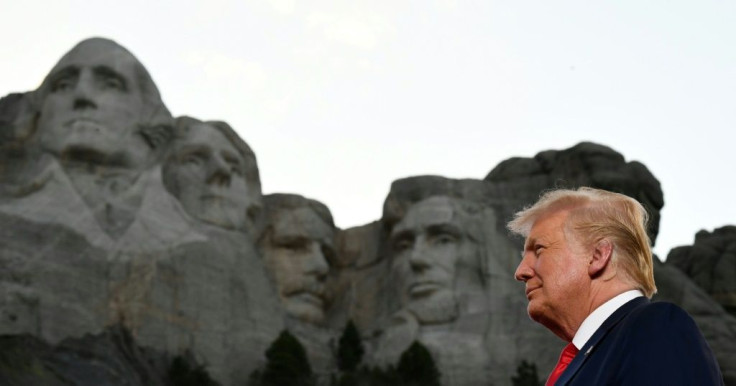 Houston Mayor Sylvester Turner also disagreed with Trump's assessment.
"No, that's not the case," Turner insisted on CBS. "I will tell you, a month ago, one in 10 people were testing positive. Today, it's 1 in 4. The number of people who are getting sick and going to the hospitals has exponentially increased. The number of people in our ICU beds has exponentially increased."
The city is facing a horrific crisis of its own. Turner admitted Houston hospitals are on track to be overwhelmed in about two weeks as COVID-19 cases keep surging to almost unmanageable levels.
Positivity tests for the disease have jumped to 25%, confirming the flood of admissions isn't due to more testing. Turner also said the current spike is devastating people of color, especially Hispanic residents.
"It makes me angry," Austin, Texas Mayor Steve Adler also said about Trump's statement. "You know, I understand he has a tough job, but it is dangerous not to be sending a clear message to Americans, to folks in my town."
There were 11,679 confirmed cases of COVID-19 in Austin and Travis County combined, as of Sunday evening. One new death was reported, raising the county's total to 137. Of the total confirmed cases Sunday, 548 were new cases reported on that day.
© Copyright IBTimes 2023. All rights reserved.
FOLLOW MORE IBT NEWS ON THE BELOW CHANNELS