Media Coverage Of Queen Elizabeth's Funeral 'Not As Glamorous' As It Seemed, Journalists Reveal
The hosts of Australian television show "Sunrise," David "Kochie" Koch and Nat Barr, have provided a behind-the-scenes look of Queen Elizabeth's funeral coverage.
The presenters took viewers into the "media city" and their tent, which had been set up soon after Her Majesty's death on Sept. 8, via their Instagram Stories to show the people the work to broadcast the funeral was not as enchanting as it seemed on television.
Koch and Barr, who spent 12 days in London covering the funeral, revealed how the broadcasting schedule of the official royal mourning period had taken its toll on them and their fellow media personnel, with the former saying the stools they sat on throughout the coverage had "stuffed Nat's back and neck."
Barr also showed the wristbands that served as their "key" to backstage entry, where dozens of tents were set up for news correspondents. Inside their tent, Koch showed how they got their makeup done and prepped for the next live, while seated on "uncomfortable" chairs that were "from a camping store in central London."
Covering Queen Elizabeth's funeral was the "highlight of my career," Koch said, while sharing now-defunct photos of their team throughout the days of the broadcast. He also added "life on the road is not as glamorous as you may think."
The photos included that of a camera operator sleeping on portable insulated containers lined up on the street, as well as of a reporter dozing off on the ground using a jumper as a blanket. Koch said reporters slept at every chance they got because of their "crazy" broadcasting schedules.
"Sleep when you can," he captioned the carousel of photos.
In one footage, Koch took a video of Barr as she stretched in front of Buckingham Palace, while waiting for the broadcast. "The best co-host—smart, witty, normal. Sitting on stools for so long stuffed Nat's back and neck, and this was an exercise from the osteo," he said.
He went on to show their editor, Rob Jobson, who had to juggle his editor duties, while writing articles for the U.S. and U.K. front pages. "Rob Jobson's schedule was unbelievable... an absolute professional," he said.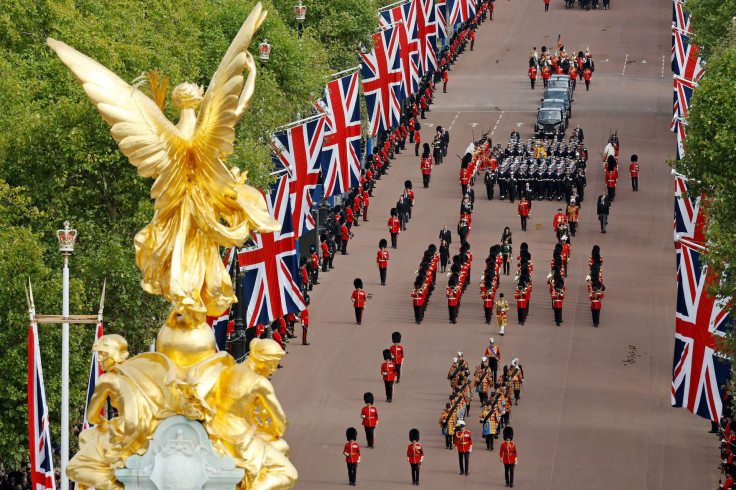 © Copyright IBTimes 2023. All rights reserved.