Prince William Didn't Invite Prince Harry To Windsor Walkabout: 'Both Couples Found It hard'
New details about the joint walkabout of Prince William, Kate Middleton, Prince Harry, and Meghan Markle outside Windsor Castle on Sept. 10 have emerged.
Contrary to previous reports that Prince William had invited the Duke and Duchess of Sussex to the walkabout, an insider has revealed that the Prince and Princess of Wales did not expect Prince Harry and Meghan to be there.
Many were surprised to see Prince Harry and Meghan appear alongside Prince William and Kate when they met the mourners and viewed the floral tributes for Queen Elizabeth outside Windsor two days after Her Majesty's death.
The event marked the first time the Duke and Duchess of Sussex made a public appearance with the new Prince and Princess of Wales since they stepped down as senior working royals and left the U.K. in 2020.
In a statement following the outing, Kensington Palace indicated that it was Prince William who had invited his brother and his wife to join him and Kate in the walkabout. The invitation was reportedly "an important show of unity at an incredibly difficult time for the family."
In an interview with Piers Morgan, royal photographer Arthur Edwards also claimed Prince William had spoken to Prince Harry and told him they should make a "combined effort" to demonstrate their unity in the wake of the Queen's death.
However, a new source told People that it wasn't the case. In fact, the source said even the security did not expect Prince Harry and Meghan to be there.
"It was awkward," the source told the outlet. "Both couples found it hard. They were in a stoic spirit of just getting through it for the Queen." The source added that while the joint walkabout made royal followers believe that things were starting to get better for the feuding brothers, the tension remains thick behind the scenes.
It remains to be seen whether Prince William and Prince Harry have patched things up after the Queen's demise. It can be noted, however, that the two royal couples had a series of tense interactions after the joint walkabout, which included exchanges of icy glares in public and separate seats at Queen Elizabeth's funeral service on Monday.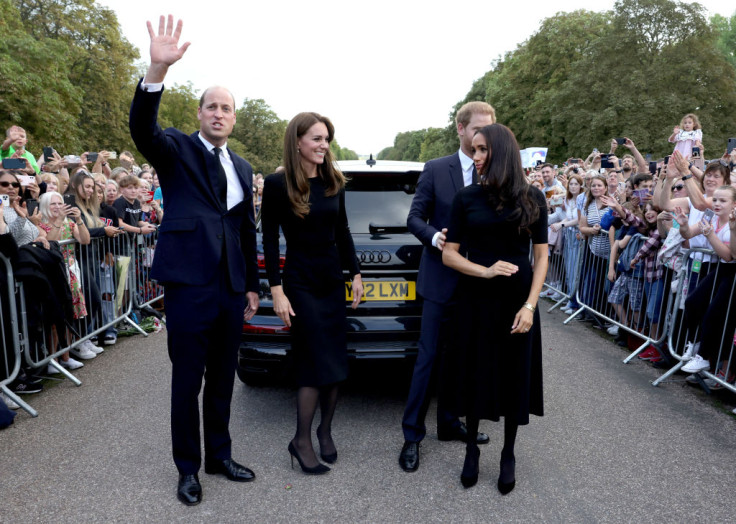 © Copyright IBTimes 2023. All rights reserved.