Meek Mill Court Update: Nicki Minaj's Boyfriend Guilty Of Parole Violations; Can't Perform Or Leave Philadelphia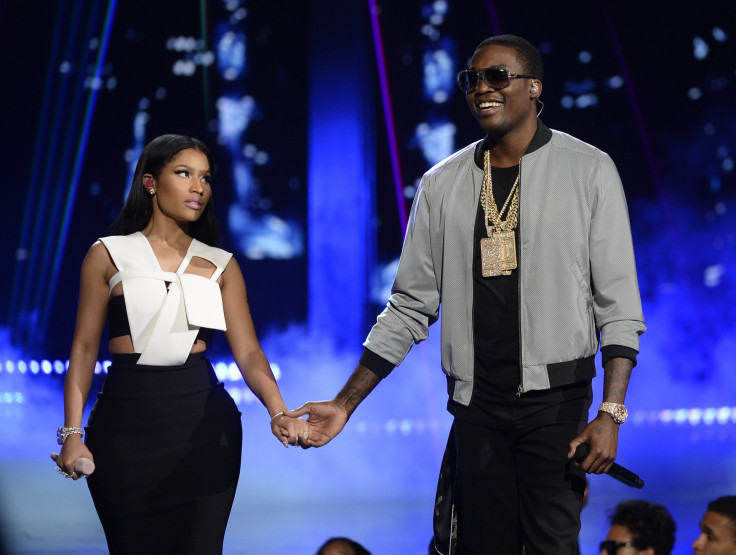 A Philadelphia judge found Meek Mill guilty of probation violations Thursday and the popular rapper faces possible prison time early next year, the Associated Press reported. Mill, 28, cannot work or perform before his hearing, scheduled for Feb. 5.
Common Pleas Judge Genece Brinkley cited that Mill had submitted cold water for a urine test and broke travel restrictions, which are considered "technical violations" of his probation, according to a tweet from a Philadelphia-based journalist.
"I bent over backwards so he can have free range to grow his career ... It didn't work out," the judge said, according to a tweet.
Mills, born Robert Williams, is on probation for a 2009 drug and gun conviction. Nicki Minaj, Mill's girlfriend, appeared alongside him in court Thursday. He reportedly testified for over an hour, and got emotional several times, specifically when describing how much it hurt not being able to see his mother in New Jersey after she had surgery; under the terms of his probation all of the rapper's out-of-state travel has to be approved. He also apologized to the district attorney for making a rap about her.
"I have my queen, Nicki [Minaj] now. I'm trying to do better and feel like I can be the best rapper out there," Mill said, TMZ reported.
After Mill was found guilty, Twitter users expressed their outrage, including rapper Chris Brown, who tweeted, "Wish the judge could see the influence meek mill can have out of jail more than in it. Y'all wanna lock him up but what about FREDDIE GRAY?"
Mill, who was born in Philadelphia, began releasing mixtapes in 2006, and has had a number of hit songs including "In My Bag," "All Eyes on You," "Amen" and "House Party."
© Copyright IBTimes 2023. All rights reserved.