Meet The Night Wolves, The Russian Nationalist Biker Gang That Wants To Recreate The Red Army's March On Germany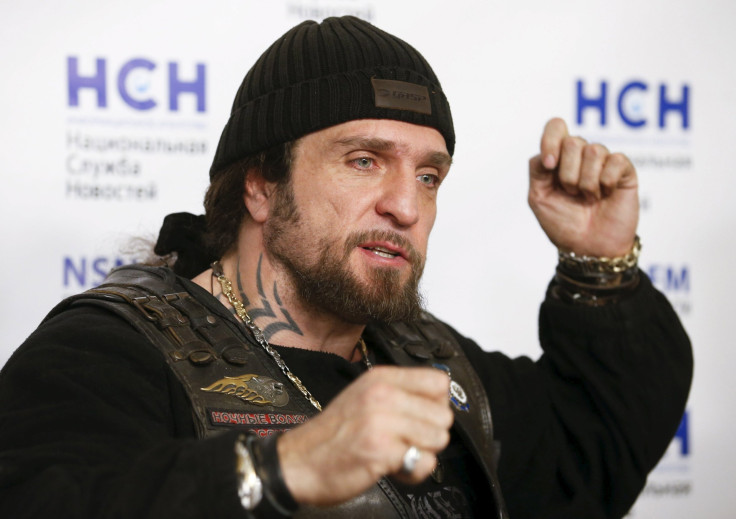 A Russian nationalist biker gang loyal to President Vladimir Putin will not be allowed to enter Poland as part of a ride planned to commemorate the 70th anniversary of the Soviet victory over Nazi Germany, Poland's Foreign Ministry said Friday. Germany had already canceled the visas that would have allowed the group, known as the Night Wolves, to pass freely through Europe on the same route that the Red Army took on its way from Moscow to Berlin in 1945 to defeat Adolf Hitler.
The trip, according to Polish Prime Minister Ewa Kopacz, is further provocation from a hostile Russia that has antagonized Europe over the last 13 months, annexing Crimea in March 2014 and continuing to assist pro-Russian rebels in the war in eastern Ukraine.
"We'd be asking for trouble by allowing these Russian terrorists to travel through Poland," Bartosz Kramek, a spokesman for the Open Dialog Foundation, a left-leaning Warsaw-based think tank, told Bloomberg earlier this month. "It won't be right for moral reasons due to our solidarity with Ukraine as well as politically, as this could provoke actions that would then be used by the Putin propaganda machine."
The group, which has more than 5,000 members and has its origins in meetings by bikers who held illegal concerts around Soviet Russia in the early 1980s, has become highly politicized and somewhat of a paradoxical entity. Their ride, which is planned to cross through Russia, Belarus, Poland, Slovakia, the Czech Republic, Austria and Germany, is designed to celebrate the fall of Hitler's Nazi regime, but the Night Wolves' leader, Alexander Zaldostanov -- a personal friend of Putin -- has taken positions that in mainstream European discourse would be seen as extreme to the point of fascism.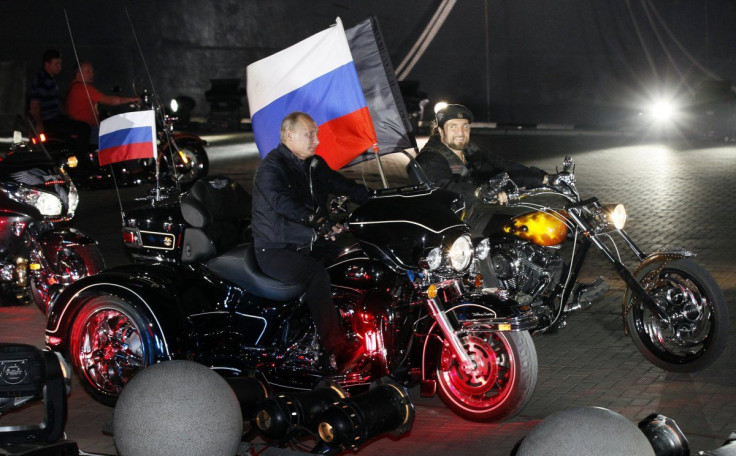 Zaldostanov and his bikers express political views similar to the Kremlin's -- nationalism in opposition to the West and to Ukraine's pro-European Euromaidan movement, support for values seen as traditionally Russian -- but with an added twist of viciousness, especially in the form of homophobia.
During an interview in January 2015, he said that an alternative name for his anti-Maidan movement could be "death to all faggots." The group is openly homophobic and denies entry to gay men.

However, Jan Techau, director for the Carnegie Endowment for International Peace, has suggested that European countries may want to be careful about banning the group for fears that it will play into the hands of Russian propaganda, he said during an interview with Bloomberg on Wednesday.
"If this 'celebration' is prohibited or banned by German authorities or other authorities on the way to Berlin, then of course it can be used to show how peaceful demonstrations against fascism are being banned in Western Europe, and it all feeds into the fascist narrative," said Techau.
The United States applied sanctions against the Night Wolves after it was reported that members had "served in an armed group in Ukraine and took part in storming a natural gas facility and the naval headquarters in Sevastopol," in Crimea, according to a Telegraph report from December 2014. Canada added Zaldostanov, known as the Surgeon because of his profession before becoming a full-time Night Wolf, to its sanctions list in February this year.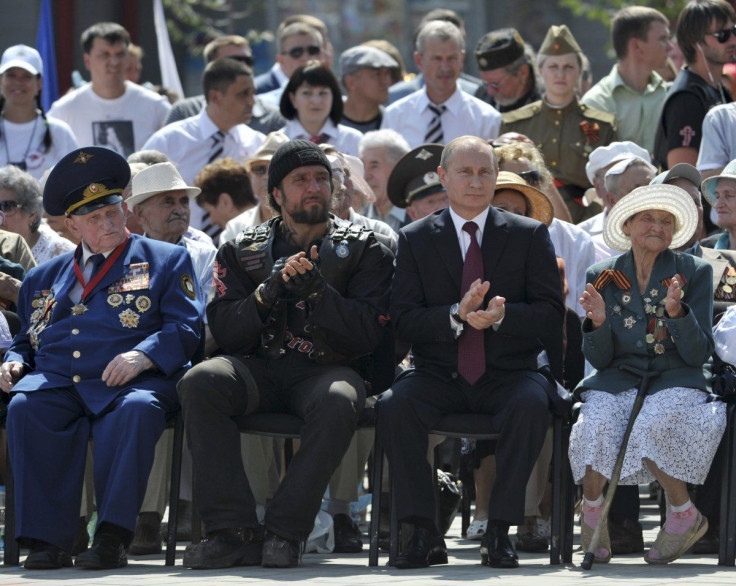 Some of the bikers, who live in the Russian exclave of Kaliningrad, which borders northern Poland, are regular visitors to a Soviet World War II cemetery in the Polish border town of Braniewo. While the bikers used to visit annually without much incident, last year's visit marked the first time they caused national outrage, with Polish bikers trying to block them from passing through. Only a last-minute police intervention stopped the two groups from clashing.
The bikers usually visit the town accompanied by students and Russian officials, lay flowers and take in a planned musical performance before eating lunch and returning to Kaliningrad, mentioned the Times report. This year, however, some of the bikers were planning to pass through Poland before meeting up with the main column on the trip to Berlin.
The trip to Berlin was planned to begin Saturday and end on May 9, the anniversary of the fall of the Third Reich, which is celebrated in Russia as the Day of Victory. This year, as all years, an imposing military parade is planned in Moscow's Red Square, where the Russian army and air force will showcase their latest airplanes, tanks and missiles.
© Copyright IBTimes 2022. All rights reserved.
FOLLOW MORE IBT NEWS ON THE BELOW CHANNELS