Megaupload Busted: Can Kim Dotcom Win the Copyright Fight?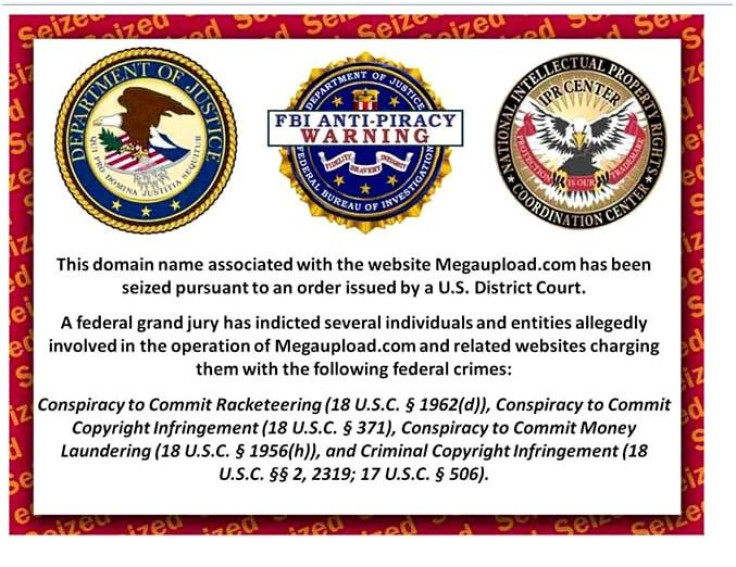 Popular file-sharing site (otherwise known as cyberlocker) Megaupload was shut down on Jan. 19 (Thursday) by the U.S. federal government. On Friday, four people, including Megaupload founder Kim Dotcom (aka Kim Schmitz) and other company executives, were arrested and seven were charged with garnering millions in profit by making Megaupload an online haven for digital pirates. The U.S. Department of Justice labeled it as one of the largest copyright crackdown in history.
The headquarters of Washington-based Cogent Communications Group, which provided Megaupload with leased computers, Internet bandwidth, hosting, and support services, was also raided. According to the indictment, Megaupload amassed $175 in criminal proceeds since it was founded in 2005 and had transferred $30 million to a Cogent bank account from February 2009 to last July.
This is not the first time Dotcom had his brush with the law. In 2002, he was convicted in what was then the largest insider-trading case in German history and a Munich court sentenced him to 20 months probation and a 100,000 euro fine.
However, this time Kim Dotcom said he's innocent and is mustering an army of IP lawyers to prove his innocence. But can he win the fight?
To answer this question, we need to look at the facts first.
What is Megaupload?
Megaupload is a 6-year-old Hong Kong-based site that is used as an online locker' (hence cyberlocker) by users to store and share massive files.
The site is very popular and, according to Internet traffic analytics firm Alexa, was the 13th most visited site on the Web not too long ago. the site had 150 million registered users and boasted of some 50 million hits per day, accounting for 4% of total internet traffic. The reason? The site offers One-click hosting of files, which means users can upload and share anything on their hard drive or in cloud storage over the Web.
Megaupload also had a video service called Megavideo, which allowed users to upload and share videos, which were well over an hour, and a photo storage and sharing service called MegaPix, which was similar to Flickr or Photobucket.
Megaupload became mega-popular in a very short time because the site did not require anybody to sign up. Anybody can upload a file, get the link, and send it out to share with others. It is also easy to tell other people to use it because you do not need to make a new account, staff attorney Michael Weinberg of Public Knowledge told Ars Technica in an e-mail.
The free Megaupload service allowed uploads of files up to 2GB in size and a total storage of 200GB. Premium account holders could upload or download larger files and use unlimited storage.
Reportedly, Megaupload was even vouched for, by celebrities such as Kanye West, Kim Kardashian, and P. Diddy in a YouTube video. The company's new CEO, Swizz Beatz, is a musical artist himself and is married to singer Alicia Keys.
Why the U.S. Authorities Launched a Crackdown on Megaupload?
Megaupload was under federal scanner for a long time as the site was suspected of allowing copyright pirates to use its servers to store and share files and content that violated copyright laws.
The indictment shows Kim Dotcom was warned by a copyright holder in 2007 that he shouldn't profit from other people's copyrighted works. In reply, Dotcom emailed back, saying, We are a hosting company and all we do is sell bandwidth and storage. Not content. All of the content on our site is available for 'free download.'
The indictment also includes chat logs with conversations between company executives, which include statements like: we have a funny business . . . modern days pirates :)
The prosecutors also have evidence that Megaupload employees also used the site to upload and share pirated content.
Raids were conducted and arrests were made at a number of homes in Auckland, New Zealand, and othe premises in Hong Kong and the U.S., on warrants issued by U.S. authorities.
In all, addresses in nine countries, including the U.S., were raided as part of massive international operation and about $50 million in assets were seized as part of the massive operation.
The raids came at a time when the movie and music industries are urging the U.S. Congress to crack down on Internet piracy and content theft. However, major Internet companies like Google, Wikipedia and Facebook are complaining that current drafts of the anti-piracy legislation would lead to censorship and grant over-reaching powers to copyright holders and content providers.
What is the Indictment Against Megaupload Executives?
The U.S. Department of Justice has prepared a 72-page indictment against Megaupload and its executives, calling them modern day pirates. Prosecutors allege that the website violated copyright laws by illegally hosting movies, music and TV shows on a massive scale.
The indictment said under the guise of operating a legitimate cyberlocker service, Megaupload's Dotcom and his accomplices operated a huge criminal enterprise.
The authorities have charged the Megaupload executives with several felonies, including racketeering, money laundering, copyright infringement and more. The federal officials said the accused pocketed millions of dollars in loot and has cost the entertainment industry at least $500 million in damages.
According to the indictment, Megaupload was used for everything from leasing servers and rewarding users for uploading pirated material (in full awareness that they were breaking the law), to buying high-end cars and renting yachts.
The Mega Conspiracy did provide financial incentives for premium users to post links on linking sites through the 'Uploader Rewards' program, which ensured widespread distribution of Megaupload.com links throughout the Internet and an inventory of popular content on the MegaConspiracy's computer servers, the indictment read.
In 2010, according to the indictment, Dotcom alone earned $42 million, while Mathias Ortmann, a Germany citizen who served as Megaupload's CTO, earned over $9 million.
Members of the Enterprise and their associates committed money laundering, attempted to commit money laundering, and conspired to commit money laundering to facilitate and expand the Enterprise's criminal operations. the indictment, which reflects an investigation that took two years to build, continued.
The indictment, among other things, accused Megaupload of streaming copyright infringed television shows and movies via Megavideo.com; wilfully reproducing and distributing copyrighted content on its servers; offering money as an incentive to users to upload infringing content between September 2005 and July 2011; not terminating accounts that offend copyright laws (as it states it can do in the Megaupload terms of service); and, not making significant effort to identify users of the site, uploaders of copyright infringing content, or the content itself.
If convicted, Megaupload's executives, including Dotcom, could face up to 55 years in prison and could be liable for up to $175 million in fines.
Who is Kim Dotcom?
Kim Dotcom, who also goes by the name Kim Tim Jim Vestor, is the founder of Megaupload. He is a street racer and was involved in various illegal activities in the past, including hacking.
Dotcom's original name is Kim Schmitz. He changed his last name to Dotcom to pay homage to the technology that made him a millionaire.
The Megaupload founder led an opulent lifestyle and is known for flying in helicopters and had once funded Auckland's 2011 New Year Eve fireworks display to celebrate his family being granted residency (the firework display reportedly cost $500,000). Dotcom's mansion, a sprawling, castle-like complex, is valued at NZ$30 million. However, Dotcom did not own the mansion. He could only lease it as he failed a "good character" test for migrants in 2010, which prevented him from buying property.
At the time of his arrest, the police seized nearly 30 vehicles in his garage, ranging from a 1959 pink Cadillac and several Mercedes-Benz to a rare Lamborghini, Maserati, Mini Cooper, Cadillac and Harley Davidson. Several cars had vanity license plates that read HACKER, MAFIA, GOOD, BAD, EVIL, GUILTY, CEO, KIMCOM, POLICE, WOW, and STONED. A Rolls Royce Phantom Drophead coupe was also found in his garage, bearing the license plate GOD.
Among other items seized, were Samsung and Sharp LCD TVs, rare artwork and sixty Dell computer servers.
Dotcom tried his best to evade arrest by activating electronic security systems during the raid.
Despite our staff clearly identifying themselves, Mr. Dotcom retreated into the house and activated a number of electronic-locking mechanisms, Detective Inspector Grant Wormald from the Organized and Financial Crime Agency New Zealand told Reuters.
Dotcom was found hiding in a safe room, armed with a loaded shotgun.
Was the Crackdown Inevitable?
Yes, according to Jonathan Riggall, a Barcelona-based website editor.
Riggall wrote on TorrentFreak, a blog devoted to file-sharing issues, that Megaupload was doing a great job of allowing people to share content on the Web. And though he didn't care if it's copyrighted material, he was certain that Megaupload would be the target of law enforcers as Megaupload and some similar sites are making loads of money out of making it possible for people to view pirated stuff.
The indictment against Mega-upload stems from a federal investigation that began two years ago. It was handed down by a grand jury in Virginia three weeks ago but was not unsealed until last Thursday.
According to the FBI, Dotcom made $42 million from pirated materials in 2010 alone.
What is Kim Dotcom's Defense?
Kim Dotcom and other Megaupload executives who face extradition and a trial in the U.S., have vehemently challenged the charges against them and Megaupload. Dotcom's lawyer, Ira Rothken, an IP defense attorney, said the allegations are without merit and Megaupload is going to vigorously defend against the case.
Rothken said Megaupload believes the government is wrong on the facts, wrong on the law and is assembling a team of crack copyright, criminal and technology attorneys to defend them in courts across the globe.
There was a complete lack of notice and opportunity to be heard by Megaupload, and therefore that raises serious due process concerns that the government could shut down an entire series of Web sites without a court hearing either side, Rothken told Washington Post.
Rothken also said, The allegations appear to be incorrect and the law does not support the charges.
It is a civil case in disguise, he added.
When asked why the U.S. authoritiees were pursuing the case as a criminal case, Rothken replied, You'd have to ask the prosecutors.
IP law lawyer Owen Seitel of Idell & Sietel LLP told VentureBeat that the indictments by their nature are overreaching, and one should not expect that all of the allegations would stand up in court.
Why? Because the site was already using US courts to file actions against various copyright pirates; the government had Megaupload e-mails talking about using U.S. lawyers to file cases against other pirate sites; the site has, on numerous occasions, taken down offending content and has a built-in abuse tool; and, big-name artists, who are supposed to be hurt the most by copyright piracy, are supporting the site.
However, Seitel said it reminded him of the crackdown on Napster. I wouldn't be surprised if the site totally shut down and never came back, the lawyer said.
New York Law School's Prof. James Grimmelmann told Ars Technica, there's easily enough in the indictment to prove criminal copyright infringement many times over, if proven at trial.
But much of what the indictment details are legitimate business strategies many websites use to increase their traffic and revenues: offering premium subscriptions, running ads, rewarding active users, the professor said.
I hope that if this case goes to trial and results in convictions, that the court will be careful in sorting out just what Megaupload did that crossed the line of criminality, he added.
The MPAA (Motion Picture Association of America), however, doesn't have any doubts that Megaupload has participated in illegal activities. By all estimates, Megaupload.com is the largest and most active criminally operated website targeting creative content in the world, it said in a statement. This criminal case, more than two years in development, shows that law enforcement can take strong action to protect American intellectual property stolen through sites housed in the United States.
We're curious about how Megaupload and Dotcom will respond to the charges. Dotcom appeared at a bail hearing on Monday before an Auckland court and Judge David McNaughton said he will rule on Wednesday whether he should be granted bail. Dotcom's lawyer said he does not pose a flight risk and said Dotcom is prepared to submit himself to an electronic bail (which allows a defendant to reside at an approved community address, wear an electronic anklet, etc. as part of the bail conditions).
Whatever decision Judge McNaughton makes is likely to be appealed to the High Court. It might take up to a year to successfully extradite Dotcom to the U.S.
What do you think? Does the federal authorities have a water-tight case? Or, will Kim Dotcom win the legal battle this time and Megaupload will go online again? Leave your comments below.
© Copyright IBTimes 2023. All rights reserved.