Megaupload Data May Get Deleted Starting Feb. 2: 50 Million Users Stranded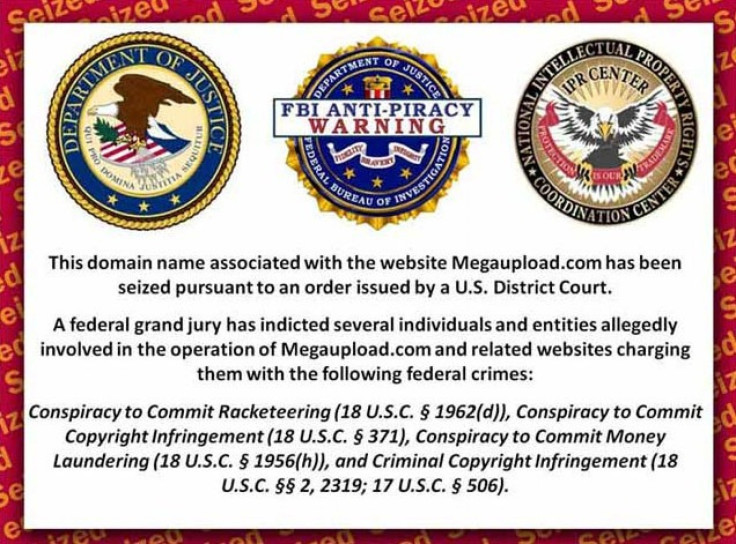 The crackdown on rogue file-sharing and online storage site Megaupload intensified with the Feds announcing that the hosting providers of Megaupload will begin deleting files of at least 50 million users starting Thursday, Feb. 2.
Two third-party hosting service providers - Carpathia Hosting Inc. and Cogent Communications Group Inc - might start deleting Megaupload files starting on February 2, according to new filings by the U.S. Attorney's Office for Eastern District of Virginia.
According to the government's letters issued to Megaupload lawyers, they have reviewed concerned Megaupload files hosted by the two companies and have copied some of its data.
The execution of those search warrants [on the servers] has now been completed, the government's letter said. The United States copied selected Mega Servers and copied selected data from some of the other Mega Servers, but did not remove any of the Mega Servers from the premises.
Now that the United States has completed execution of its search warrants, the United States has no continuing right to access the Mega Servers. The Mega Servers are not in the actual or constructive custody or control of the United States, but remain at the premises controlled by, and currently under the control of, Carpathia and Cogent. Should the defendants wish to obtain independent access to the Mega Servers, or coordinate third-party access to data housed on Mega Servers, that issue must be resolved directly with Cogent or Carpathia. It is our understanding that the hosting companies may begin deleting the contents of the servers beginning as early as February 2, 2012.
However, Slashgear reported a Megaupload spokesman as saying, Carpathia Hosting does not have, and has never had, access to the content on MegaUpload servers.
In what is being billed as the largest criminal copyright crackdown, U.S. Authorities had shut down Megaupload on Jan. 19 and had indicted several individuals and entities, including its founder Kim Dotcom, for several federal crime charges ranging from conspiracy and racketeering to copyright infringement and money laundering.
Ever since the government had frozen Megaupload assets,the site was unable to pay its hosting service providers, who are now threatening to delete its data.
Though Megaupload is based in Hong Kong, some of its leased servers are in Virginia in which U.S. authorities has access to take down during the Megaupload crackdown.
Megfaupload laywers: Cautiously Optimistic
Megaupload lawyers said wiping out the data files will make it difficult for them to defend the case against the charges. However, they have not lost hope yet.
We're cautiously optimistic at this point that because the United States, as well as Megaupload, should have a common desire to protect consumers, that this type of agreement will get done, said Ira Rothken, an attorney for MegaUpload, according to The Associated Press. Rothken said the threatened data is important for building Megaupload's defense.
However, there's no doubt that the announcement by the Feds will whip up a panic among Megaupload's 50 million-odd users. No doubt, the Feds' action will leave Internet pirates stranded. But it will also affect millions of users, who not only have uploaded legitimate files but also those who have used Megaupload's cyberlocker service to store and access their family photos, personal document and video with innocent motive.
Currently, discussions are reportedly underway between the prosecutors and the two hosting companies to retain the Megaupload data. However, as the search warrants used to initially seize Megaupload are no longer valid, both Cogent and Carpathia need to be paid if they are to preserve the data in their servers.
And, if Megaupload can't pay the hosting companies, it is up to the Feds, who have access to Megaupload's frozen assests, to pay them. In this regard, the Feds have to move fast or they risk being sued by legitimate users, who have uploaded non-infringing data on Megaupload. A lawsuit could be filed, claiming that users, who had been using the file-storage service for legitimate reasons, were unfairly denied access to their personal files due to the Feds' actions.
We of course would like to think the United States and Megaupload would both be united in trying to avoid such a consumer protection calamity whereby innocent consumers could permanently lose access to everything from word processing files to family photos and many other things that could never practically be considered infringing, TorrentFreak quoted one of MegaUpload's lawyers as saying.
Indeed, users' concerns are growing more and more. Once Megaupload was the 13th most visited Internet site.
The impact of the Megaupload crackdown has also spread out to other cloud-based storage and file-sharing companies as some companies like FileSonic and Uploaded.to have started changing their policies such as deleting files, blocking file-sharing, or cutting off access to U.S.-based users.
Currently Megaupload founder Kim Dotcom is languishing in New Zealand jail after pleading not guilty to the charges. He was denied bail last week and is awaiting U.S. extradition.
Must Read:Sneak Peek: Megaupload Boss Kim Dotcom's $30 Million Mansion and Luxury Cars (PHOTOS)
© Copyright IBTimes 2023. All rights reserved.