Meghan Markle Is 'Boss' In Prince Harry Relationship, Does This For Duke
Meghan Markle is reportedly the real boss in her and Prince Harry's relationship. But the Duchess of Sussex also does an important thing to nurse her husband's ego.
Judi James, a body language expert, decoded some of the royal couple's photos from their recent overseas tour. One of the snaps featured Markle and Prince Harry sitting on stage, and Markle's hand is placed on top of Prince Harry's thigh.
"This gesture could look intimate and quite sexual but it might also have an ulterior motive. Firstly, it suggests dominance in Meghan, who reaches across to place a hand on Harry's thigh. It's quasi-maternal here, the kind of checking, reminding, or restraining gesture a mother might want to when her kid is distracted or inattentive. Which looks very much the case with Harry here. Meghan is in a grown-up role here, the boss, listening to here hosts and performing a sociable smile but Harry seems to need to be reminded to stay focused," James told The Sun.
In the second photo, Markle and Prince Harry are walking hand in hand, but Markle also has her other hand wrapped around her husband's arms. James said that the couple's body language in the snap suggests that they are still in the early stages of their relationship.
"Their hand clasp is very tight here with both curling their figures up to signal intimate love and a desire to not be split up, but Meghan double-endorses the message by adding a strong signal of ownership and intimacy to the clasp. This bicep-hugging can look rather needy but it is ultimately flattering to the man whose are muscles and therefore strength is being praised and shown off," James explained.
Overall, James said that it is evident Markle and Prince Harry are loved-up that's why the Duke of Sussex always guides his wife. On multiple occasions, they held hands in public, and their fingers were also intertwined.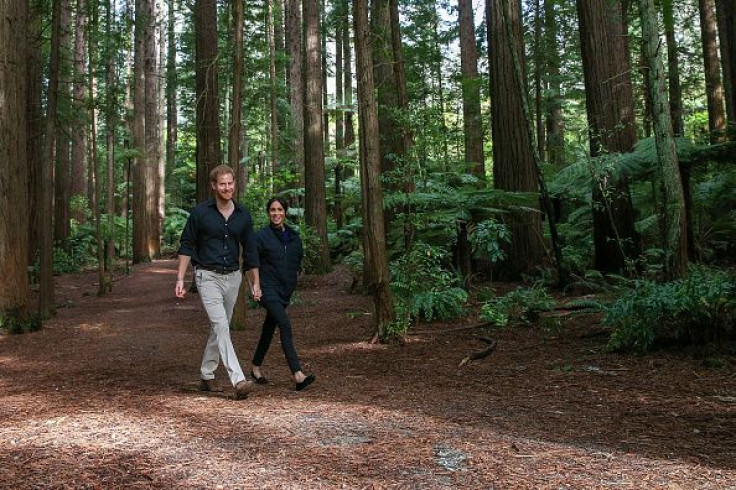 © Copyright IBTimes 2023. All rights reserved.