Meghan Markle Legal Battle: Why Royal Biographer Is 'Disappointed' Over Duchess' Big Win
KEY POINTS
Angela Levin weighed in on Meghan Markle's win in her privacy case against Associated Newspapers Thursday
The author of "Harry: A Biography of a Prince" said she was "disappointed" with the ruling
She claimed judges focused on how much of Markle's letter Mail on Sunday had published but dismissed the duchess' alleged perjury
A royal biographer has criticized the latest ruling in Meghan Markle's lengthy court battle with the publisher of the Mail on Sunday.
Journalist and Prince Harry biographer Angela Levin weighed in on the Duchess of Sussex's major legal victory in her privacy and copyright infringement case against Associated Newspapers Thursday.
The British media company was trying to overturn a February ruling that deemed it had invaded Markle's privacy by publishing a letter she wrote to her father, Thomas. But the Court of Appeal in London dismissed the appeal, calling the duchess' letter "personal, private and not matters of legitimate public interest."
During an interview with TalkRadio's Mike Graham, the author of "Harry: A Biography of a Prince" said she was "disappointed" with the ruling, claiming that the judges only focused on how much of Markle's letter Mail on Sunday had published and not on the duchess' alleged perjury.
"I'm very disappointed in the appeal court judges because they have put [more importance on] the number of words that you used from a letter ... than actually telling untruths about what's happened or a sort of lack of memory about it," Levin said.
The "Diana's Babies" author went on to claim that she does not buy Markle's statement that the duchess forgot emails she exchanged with an aide who was going to brief the authors of "Finding Freedom," an unauthorized biography about her and Prince Harry.
Mail on Sunday's publisher had argued that Markle wrote her letter to her father knowing it might be published and made private information public by cooperating with the authors. But in Thursday's ruling, a judge said that Markle forgetting her correspondence with her former communications secretary Jason Knauf "was at best an unfortunate lapse of memory on her part but did not bear on the issues."
Levin argued that it was unlikely for a person with "a mind as sharp and bright as Meghan's" to forget her conversation with her aide.
The biographer also noted that 585 out of the 1,250 words in the letter to the duchess' estranged father had been republished in five articles by the Mail on Sunday in order to counter unflattering reports about Thomas' behavior. Judges said Thursday that while "it might have been proportionate to publish a very small part of the letter for that purpose, it was not necessary to publish half the contents of the letter."
"So if they just used 300 words, [Meghan] would have lost the case. But it's gone down to the number of words," Levin continued. "I think the moral side of it is more important than counting words."
Some Twitter users shared Levin's views of Markle's legal victory.
"Perjury is a crime, under British (and American) law, and yet, the basis of Meghan Markle's statements to the court, which were repeatedly amended until finally she had to apologize for having 'forgotten,' was never questioned in any depth. Her perjury, lies and crimes were covered up," one person alleged.
"Meghan Markle did not win. Her reputation is [poo emoji]. She's been exposed as a liar who is willing to mislead and commit perjury," another claimed.
"How can anyone have a 'memory lapse' in such a critical area of a high profile court case and expect to get away with it? Surely perjury?" a third user claimed.
But Sussex supporters were satisfied with the ruling, saying that ultimately the publisher had breached Markle's privacy and infringed on her copyright.
"Tell Angela that the people that she and the media abuse are delighted! Copyright laws are there to protect people from the media," one person commented.
"The 'evidence' Knauf gave was irrelevant, and the judge said [it] only served to further prove that she didn't want the letter to be public. This was a simple copyright case. Angela doesn't like it because it makes it harder to be a gossip monger," a second Twitter user wrote.
"It's about copyright and privacy law, Angie!!" a third wrote.
Thursday's decision means that the case will not proceed to trial and that Markle will receive substantial financial damages from Associated Newspapers, along with a public apology printed on the front page of the Mail on Sunday and the homepage of the Mail Online.
In a statement Thursday, Markle said that her legal victory was not just for her but also for "anyone who has ever felt scared to stand up for what's right."
"While this win is precedent-setting, what matters most is that we are now collectively brave enough to reshape a tabloid industry that conditions people to be cruel, and profits from the lies and pain that they create," the Duchess of Sussex continued.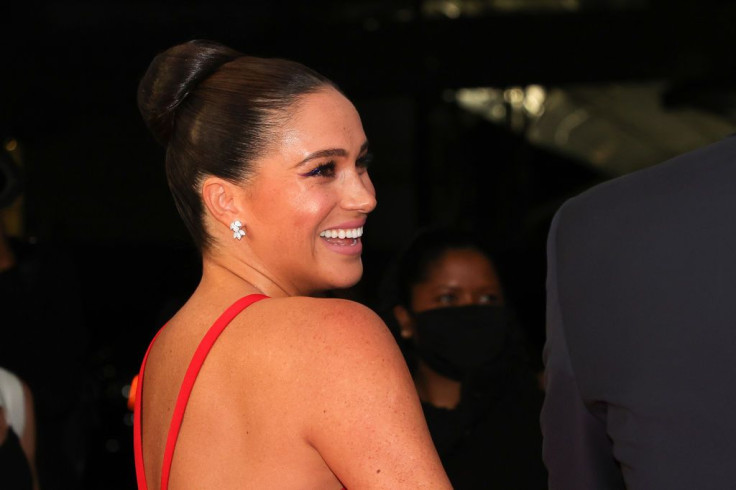 © Copyright IBTimes 2022. All rights reserved.
FOLLOW MORE IBT NEWS ON THE BELOW CHANNELS