Meghan Markle May Wear 'Something Borrowed' From Princess Diana, Says Katie Nicholl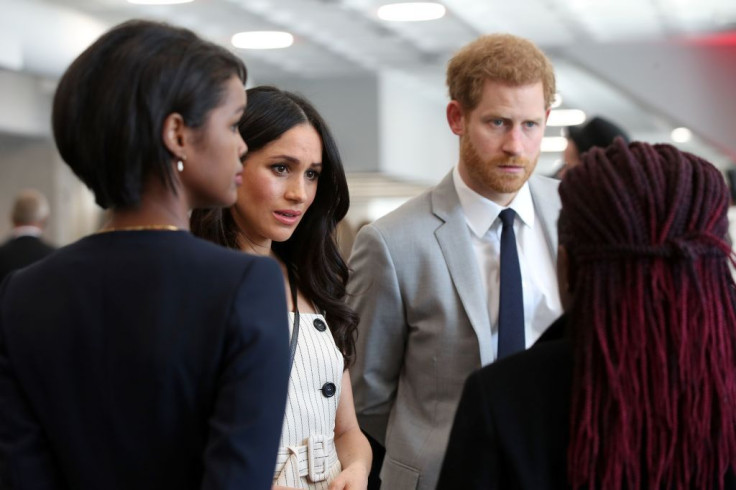 Meghan Markle and Prince Harry are likely to honor Princess Diana on their wedding day.
Prince Harry and Markle's May 19 nuptials are only a few weeks away. According to Katie Nicholl, the bride-to-be will likely follow the bridal tradition of wearing "something borrowed." The "Suits" star is expected to incorporate an item that belonged to the late Princess of Wales on her big day.
"Harry made sure Diana wasn't forgotten on the day of his engagement," Nicholl told Express. "Two of the diamonds in Meghan's ring are from Diana's personal collection. So I think there's every possibility that Meghan might wear a piece from Diana's jewellery collection on her wedding day."
Grant Harrold, the former butler of Prince Charles and Camilla Parker Bowles, believes that the future royal might wear the Spencer tiara. According to him, by doing so, the "Horrible Bosses" star will give a nod to the People's Princess.
"If she does decide to wear a tiara, I believe she may opt for the Spencer tiara which was famously worn by Lady Diana Spencer on her wedding to Prince Charles, and on many more occasions throughout her life," Harrold said. "This could be a way for Prince Harry to involve his mother in his big day, as Prince William did when he gave his future wife Kate Middleton his mother's engagement ring."
However, Ella Kay doesn't think that using the Spencer tiara is a great way to pay a tribute to Markle's future mother-in-law.
"I think it's unlikely because Meghan is marrying into the Windsor family, not the Spencer family, so if she borrows a tiara, I think it will reflect her new royal status," Kay, who runs the blog The Court Jeweller, told Town & Country. "Also, I don't think that anyone would want to invite even more comparisons to Diana; her daughters-in-law get enough of that anyway."
No matter what jewellery from Princess Diana's collection Markle will wear, the couple will certainly honor his late mother on their big day. In fact, Prince Harry reportedly invited the entire Spencer clan to the royal wedding.
Meanwhile, Markle's family and relatives have not received an invite to the event yet. Her half-sister Samantha who was expecting an invitation was disappointed and furious.
"We are getting s Markle Royal Coat of arms but not invited to the wedding?" Grant wrote on Twitter. "And it's not only Meg who is 15th cousin to Harry. My brother and I are also. I was the first born Markle to my father. Exclude the markle's from this wedding would be highly inappropriate."
© Copyright IBTimes 2023. All rights reserved.