Meghan Markle Reveals Truth About Rumors She Made Kate Middleton Cry Before Royal Wedding
KEY POINTS
Meghan Markle said "everyone in the institution knew" she didn't make Kate Middleton cry
The Duchess of Sussex said it was Middleton who made her cry days before her 2018 wedding during a tiff over flower girl dresses
Markle revealed that she has forgiven Middleton, calling the Duchess of Cambridge a "good person"
Meghan Markle denied that she made Kate Middleton cry days before her royal wedding and confirmed that it was actually the other way around.
The two duchesses were often pitted against each other and were rumored to have had a feud when Markle was still a working royal. In her sit-down interview with Oprah Winfrey, Markle addressed the rumors that she had made Middleton cry during the preparations of her 2018 royal wedding to Prince Harry over the flower girl dresses.
"The reverse happened," she was quoted by Page Six as saying about the reports that she drove the Duchess of Cambridge to tears. "Everyone in the institution knew it wasn't true."
Prince Harry's wife stressed that Middleton is "a good person." However, she wasn't sure why no one from the royal family had denied the reports that she and Middleton were feuding.
The former "Suits" star did not go into detail regarding the tiff. However, she acknowledged that it had something to do with the flower girl dresses.
"There wasn't a confrontation. I don't think it's fair to her to get into the details because she apologized, and I've forgiven her," she said.
Days before Prince Harry and Markle's interview with Winfrey aired, an insider said that the Duchess of Sussex had nothing but kind words to say about her sister-in-law. The source who had knowledge about the Sussexes' interview also said Buckingham Palace had nothing to worry about because the tell-all would not expose the fab four's rumored rift.
The speculations about Markle making Middleton cry in the run-up of her royal wedding had been a much talked about topic online. Some netizens doubted that it happened, but others felt there was likely another explanation for her tears, suggesting Middleton was emotional as she had just given birth to Prince Louis at the time.
"Catherine had just had Prince Louis and by all accounts was hormonal and emotional. For all we know she could have just been emotional at how cute Princess Charlotte looked," Gail Neschen, a marketing director, commented.
"What I do know is that at that time Kate was likely at the end of her pregnancy or had just given birth. Meghan was probably overwhelmed and trying to manage a wedding that would be seen on the world stage," Michele Chur added.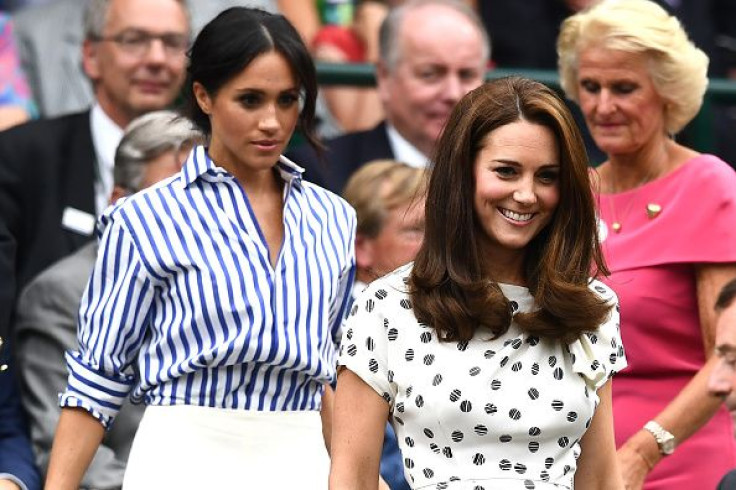 © Copyright IBTimes 2023. All rights reserved.