Meghan Markle Shares Her 'Unusual' Travel Tip Inspired By Leonardo DiCaprio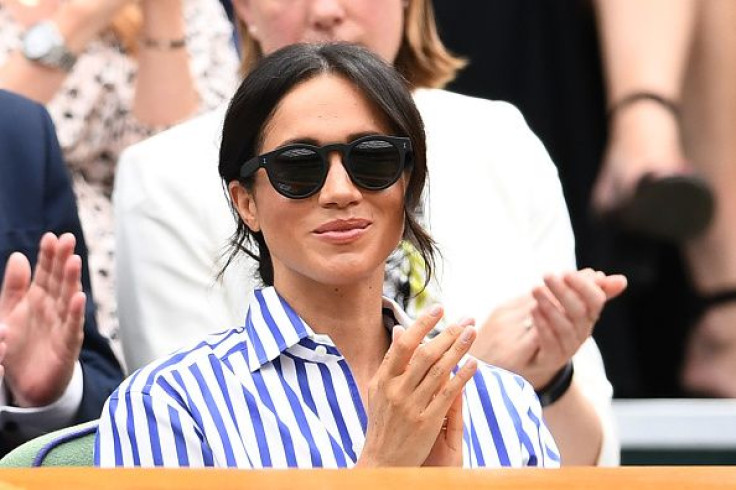 Meghan Markle recently shared an unusual travel tip that was inspired by Leonardo DiCaprio.
On her former lifestyle blog, The Tig (via Express), the Duchess of Sussex revealed that she puts antibacterial gel or cream on the inside of her nostrils to prevent the spread of germs while on the plane.
"Leonardo puts a little Neosporin on a cotton swab and coats the inside of his nostrils. Not only does it create a barrier for germs, it also lubricates the skin in the nose. That's important because when the skin cracks, germs can come running in, so the coating of the Neosporin doubly protects you," she wrote.
Markle also said that even though she isn't a germophobe, she is very particular about the cleanliness and safety or everything on the plane.
"I'm no germophobe, but when I get on a plane I always use some quick hand wipes or a travel sanitizer spray to wipe it all down: it includes the little TV, the service tray, and all the buttons around the seat," she wrote.
Last month, Kara Godfrey, a journalist for Express, claimed that Markle may follow Queen Elizabeth II's travel hack during her upcoming trip to Australia, New Zealand, Fiji, and the Kingdom of Tonga.
Her Majesty is known for wearing gloves during her public engagements. Since she shakes hands with a lot of people, the Queen wants to make sure that her hands will always be kept clean. Markle was recently spotted wearing gloves during multiple outings.
Richard Fitzwilliams, a royal commentator, explained why female royals tend to wear gloves in public.
"Given the need to shake hands so often, they are useful as protection and to stop the spread of infections," he said.
In related news, Markle and Kate Middleton also wear body suits to ensure that if their clothes fly up due to the strong wind, what's underneath won't be shown to the public.
"Often they wear body suits and clothes that actually increase static so it's much harder for something to fly up. So you have an undergarment that is almost like a body suit that is one tactic that is used," Myka Meier, an etiquette expert told The Sun.
© Copyright IBTimes 2023. All rights reserved.