Meghan Markle Should 'Stop Being So Nice,' Duchess' Friend Serena Williams Says
Meghan Markle's dear friend, Serena Williams, has a word of advice for the Duchess of Sussex.
On Wednesday, Williams launched her clothing line, Serena, during Art Basel in Miami. During the event, the athlete told People that Markle hasn't changed a bit despite her new status and that the former "Suits" actress remains sweet and thoughtful while being pregnant.
"I'm like, 'How are you?' and she's like, 'No, how are you?' and I'm like, 'You're so sweet, but I'm really asking – how are YOU?'" said Serena. "I'm like, 'Meghan, stop being so nice…you're the pregnant one, aren't you supposed to have hormones, why are you so sweet?' But that's always been her."
Williams is already a mom to daughter Alexis Olympia. As a result, she can give Markle plenty of advice about parenting, but apparently, the Duchess of Sussex "still gives [her] more advice."
When asked about what her advice would be for first-time moms, Williams has this to say, "It will come."
"I don't know what's going to happen, I didn't know how I'm going to have a baby, and it all came," Williams explained. "It's so crazy, I totally changed, and it literally is like a switch. And so, I say that, 'It will come.'"
Markle and Williams' friendship started in February 2014 when both had to play a game of flag football on Direct TV's Celebrity Beach Bowl. They immediately hit it off, and Markle even called the tennis player her "confidante."
Markle has been very supportive of Williams. In fact, she watched the athlete grace the runway at New York Fashion Week in September 2016. The duchess, who was still active on social media at that time, even shared a photo of them together.
"My eyes are closed but my heart is so open! So proud of your new collection @serenawilliams Happy I could be there to support you xx #NYFW," Markle wrote.
Although William is very close to Markle, she considered her friend's sister-in-law, Kate Middleton, the toughest woman she knows. Williams was impressed with how the Duchess of Cambridge was able to put makeup on and go out in public just hours after delivering Prince Louis.
"And she was … standing! So she's officially No. 1," Williams said.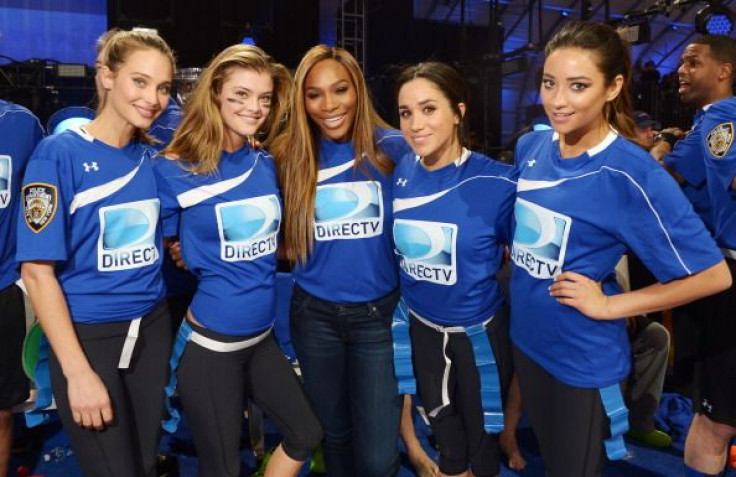 © Copyright IBTimes 2023. All rights reserved.