Meghan Markle's Personal 'Message' Has Quietly Influenced Kate Middleton Behind The Scenes
Even though rumors of a feud between Kate Middleton and Meghan Markle have been circulating for some time, a recent report suggests that the Duchess of Cambridge may quietly be taking inspiration from the Duchess of Sussex.
According to Express, Middleton was recently spotted wearing skinny jeans and a red jacket "with a sustainable message." Not only was the outerwear nylon, but it was also ethically-sourced down. However, the piece did not come with a small price tag. The Mini Duvet II jacket that Kate wore retails for £342.58 ($450.07).
READ: Meghan Markle, Kate Middleton's Behavior At Public Event Was 'No Accident', Says Expert
This focus on sending messages about important issues is nothing new to the royal family, especially Markle. Earlier this year, the Duchess of Sussex opted to "send a message about sustainability through her outfit choices" while on her royal tour of Africa with Prince Harry, according to Dominique St. John, a fashion PR expert.
Additionally, the royal watcher stated that Markle likes to "communicate strong messages" through her wardrobe, which seems to be something that Middleton has now started to weave into her royal fashion as well.
The members of the British royal family have also not shied away from pricier clothing in the past, though they still try to seem somewhat more relatable as well. Over the course of this year, both the Duchess of Cambridge and the Duchess of Sussex started to pair designer dresses with inexpensive earrings. According to fashion expert Cécile Duclos, this trend was created to appeal to the "general public, who can also enjoy fashion, but can't necessarily afford designer pieces."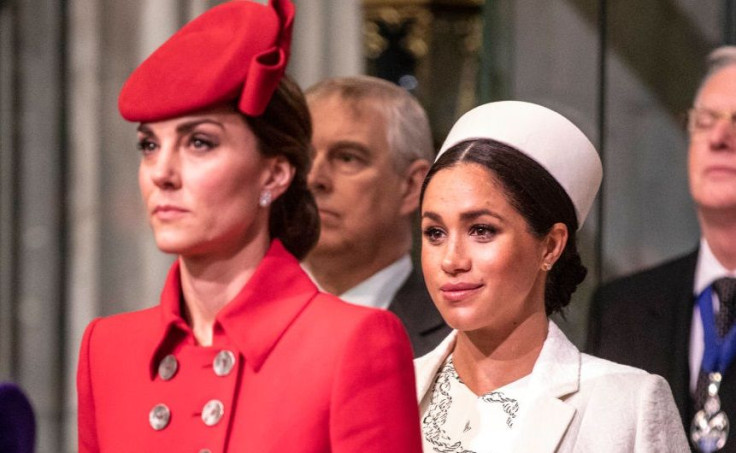 © Copyright IBTimes 2023. All rights reserved.