Megyn Kelly Of Fox News In Hysterics On Live TV After 'Terrifying' News Alert Animation [VIDEO]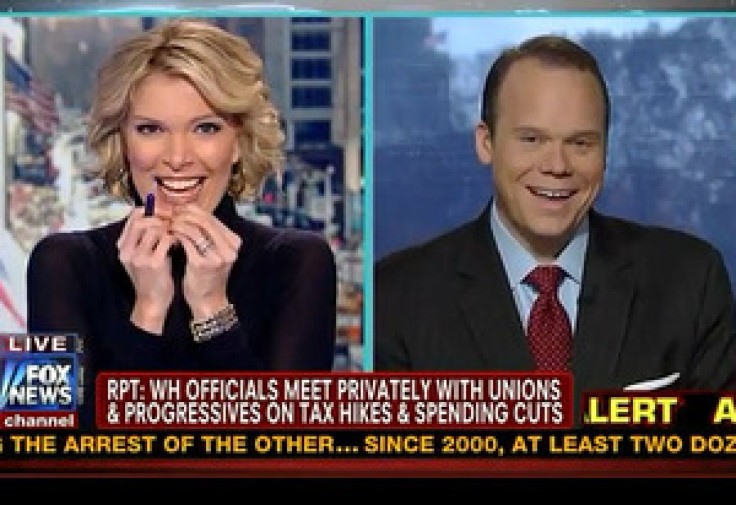 Fox News commentator Megyn Kelly went into hysterics during a live video news broadcast this week after a news alert animation made its debut, which startled her.
Kelly is seen in the video, about to begin her newscast, staring with wide eyes. Then, she breaks into laughter while attempting to deliver her segment.
"I'm sorry, that was a new alert animation. Scared me a little bit," Kelly said. "And maybe we should be scared, because the clock is ticking down right now to the so-called fiscal cliff."
But Kelly didn't stop there; She also sought out the opinion of her guest, Fox News digital politics editor Chris Stirewalt, asking if he thought the new news alert animation was scary too.
"I was a little frightened, I thought something really really bad was happening," he said, "instead of just the standard badness."
When Fox News producers played the animation again, Kelly completely lost it and broke down into giggles, saying how "terrifying" it is.
The video on YouTube has been viewed near 1.7 million times since it was uploaded on Wednesday.
Last November, Kelly came under fire after, according to critics, downplaying the seriousness on the pepper spray attacks at UC Davis to students by Lt. John Pike.
"I mean it's like a derivative of actual pepper. It's a food product, essentially," she said.
Kelly sparked an immediate backlash, since many believed her comments were not sensitive towards the UC Davis students who suffered through the pepper spray attack.
Kelly, a former lawyer before becoming a Fox News anchor, posed for the December 2010 issue in GQ, wearing a skimpy nightgown, which many pundits criticized her for.
© Copyright IBTimes 2023. All rights reserved.