Melania Trump Called 'Liar', 'Evil Witch' After Sharing About Her Annual Children's National Hospital Visit
Melania Trump continues to maintain a strong front despite the endless hate and criticisms being thrown at her. In fact, most of her followers describe her as a "classy," "beautiful" and "smart" First Lady of the United States. However, just recently, Melania was bashed again after she shared a clip of her visit at the Children's National Hospital.
"It was an honor to celebrate the joys of the season alongside each of you!" Melania posted on Twitter, alongside a clip that the pediatric care provider's official account shared online. The said video showed Melania reading the "Oliver the Ornament Meets Belle" story in front of the kids. It also featured the FLOTUS, who wore a turquoise pencil skirt and brown turtle neck top, receiving a bouquet and a bag of tokens from two of the patients.
Melania Trump's retweet was met with mixed reactions from netizens. Supporters of the FLOTUS praised her for giving time to the sick children despite her hectic schedule. There are also a number of followers who described Melania as a "good example" to others.
"I am proud of you and your husband. While in England, you were both very respectful. I'm happy you are our 1st Lady and President. Thank you. And, I love how you decorate for Christmas. Simply beautiful!" Daniel Palik said. "You inspire me. God bless you and your family!" Jeff Jerome wrote in the comment section.
"Just continue doing projects for greater good. POTUS & the FLOTUS' family has been tasked with vital roles in this time when the country and its people needed you most. May God bless you always," a third netizen stated. "Thanks for all your efforts as First Lady. I'm sure it's hard to keep your head up high with all the classless ill-mannered tweets that come your way. I personally was taught manners, respect and love of all people. God bless you," Dav Summers responded to the tweet.
As per usual, Melania Trump's critics took the opportunity to lambast her and her husband, President Donald Trump. "At first I thought it said ...It was an honor to celebrate the joys of treason," Natalie Morgan said. "How about you celebrate by freeing the kids your husband has locked up in cages at the border?" Josh Grossberg wrote. Melania has yet to comment on these harsh remarks.
The mom of one made annual visit to Children's National Hospital to read to patients, a tradition that started 60 years ago, on Friday. Melania Trump made sure to drop by the Surgical Care Unit, Short Stay Unit and play room to check in on the young patients. She even offered words of encouragement to the kids. Author Todd Zimmerman and Mr. and Mrs. Claus were also sighted during the visit.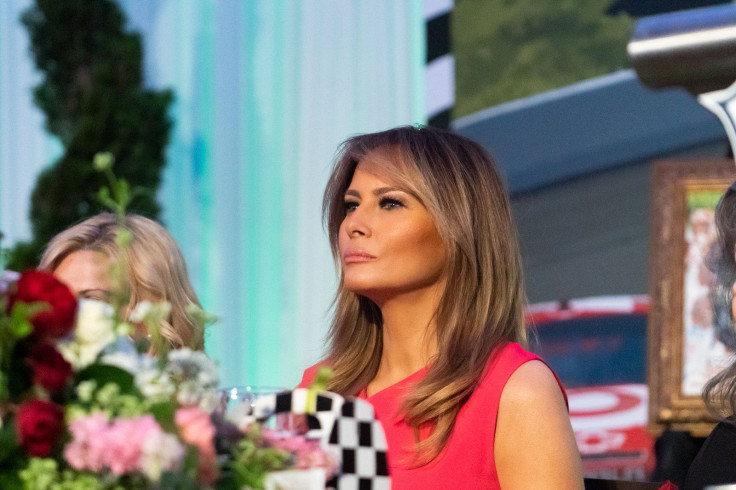 © Copyright IBTimes 2023. All rights reserved.