Memorial Day 2020 Weekend: Which Beaches, Parks Are Open Amid Coronavirus Pandemic?
KEY POINTS
Summer's here, and so are face masks and social distancing
Millions of Americans on the East and West Coasts will head out into the sunshine to forget the coronavirus blues
All 50 states have now partially reopened
It will be an understatement to say this coming Memorial Day Weekend -- generally considered the start of summer -- will be like no other the Americans have ever experienced.
Social distancing will still be there, as will facemasks on the many people who will flood recreational locations around the country. Think beaches, parks, trails for a multitude of activities normally associated with the weekend, which starts Saturday.
All 50 states have now partially reopened and this means masked and unmasked Americans will be sharing spaces together at barbecues and lawn parties.
Harm reduction, or deciding which activities are at lower risk from COVID-19 compared to others, is the latest buzzword we'll be hearing a lot in the coming days. Going to the beach to swim is less harmful than hanging out with family or friends on the sand, talking, eating and soaking in the sun for hours on end.
Residents of the northeast, especially New York state and New Jersey (the top two coronavirus hit states) will want to lose themselves in nature's embrace to forget the claustrophobia induced by shelter-at-home orders. Here's what the beaches in these places will look like from Friday to Sunday.
New York City: All city beaches are closed for the weekend as city authorities aren't taking any chances of increasing an infection rate that's been trending downwards for the past two weeks. This means Rockaway Beach, Coney Island or Orchard Beach are closed.
"The fencing will be there, but it won't be implemented at first. We're hoping everyone just listens to the rules, follows the rules," said Mayor Bill de Blasio. "No swimming, no sports, no gathering, no parties. Just common sense. Observe social distancing. If you walk on the beach, do it for a limited period of time. Get back home like everyone else."
New York state isn't as locked down as the city, however. State-run beaches will be open but with social distancing restrictions in place. Some Long Island beaches such as Long Beach and Nickerson Beach will restrict access to residents only.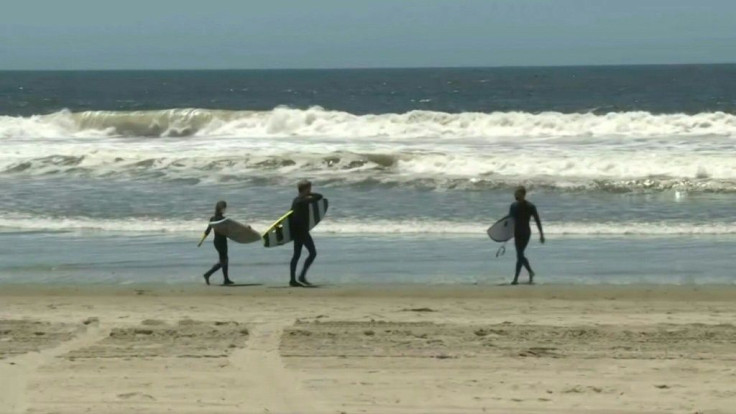 On the other hand, Jones Beach and Robert Jones Beach will close their gates once capacity reaches 50%.
Westchester County beaches will be open from Friday to Monday.
New Jersey's famed beaches, boardwalks, lakes, and lakeshores will reopen May 22 subject to social distancing -- but only for Westchester residents. Amusement parks, arcades, and other places of public amusement remain closed. Restaurants and bars remain limited to delivery and take-out services.
Connecticut's shoreline state park beaches never closed but now have capacity restrictions that will remain in place this weekend. And, yes, social distancing will be enforced.
Los Angeles County beaches reopened May 13. Beaches allow only active recreation such as swimming, surfing, running and walking. No chairs, canopies, coolers, grills or sunbathing.
May 15 saw the reopening of tennis courts, pickleball courts, BMX bike areas, equestrian centers, community gardens and ranges for archery, model airplanes, and trap and skeet shooting. Outdoor parks and recreational facilities are open. The list includes golf courses, trails, trailheads and parks.
The city of LA has reopened its trails, trailhead parks and golf courses but they are subject to social distancing guidelines.
Orange County: County-operated beaches are open for active recreational use. Seal Beach has been open since Thursday from 4:30 a.m. to 10:00 p.m. and will be open seven days a week.
© Copyright IBTimes 2023. All rights reserved.