Memorial Day Playlist 2022: 16 Patriotic-Themed Songs To Celebrate The Holiday
As you gear up for Memorial Day, there are plenty of ways to celebrate with some patriotic music that will get you in the mood for the holiday weekend. While many mark the day with barbeques and beach picnics, the day is reserved for the remembrance of the U.S. military personnel who gave their lives while serving their country.
To honor their memory, here are 16 patriotic songs that you can play all weekend long to celebrate Memorial Day 2022:
1. Toby Keith, "American Soldier"
"Yeah, an American soldier, an American, Beside my brothers and my sisters, I will proudly take a stand."
2. Billy Joel, "Goodnight Saigon"
"And we held on to each other, Like brother to brother, We promised our mothers we'd write, And we would all go down together."
3. The Doors, "The Unknown Soldier"
"And it's all over, For the unknown soldier."
4. The Shirelles, "Soldier Boy"
"Soldier boy oh my little soldier boy, I'll be true to you, You were my first love, And you'll be my last love."
5. George Michael, "Mother's Pride"
"Mother's pride, Just a boy, His country's eyes, He's a soldier waving at the shore, And in her heart the time has come, To lose a son."
6. Sammy Hagar, "Remember the Heroes"
"Remember the heroes, Who fight for the right to choose, Remember the heroes, We've all got a lot to lose."
7. Toto, "Home of the Brave"
"You gotta remember, No don't let 'em take away, The land we call the home of the brave."
8. Bruce Springsteen, "Born in the U.S.A."
"I was born in the U.S.A."
9. Billy Ray Cyrus, "Some Gave All"
"All gave some and some gave all, And some stood through for the red, white, and blue, And some had to fall."
10. George Jones, "50,000 Names Carved in the Wall"
"Fatherless daughters and fatherless sons, And there's 50,000 names carved in the wall."
11. James Brown, "LIving in America"
"Hand to hand, across the nation, Living in America, Got to have a celebration."
12. Lee Greenwood, "God Bless the USA"
"And I'm proud to be an American, Where at least I know I'm free."
13. Elton John, "Philadelphia Freedom"
"'Cause I live and breathe, This Philadelphia freedom, From the day that I was born, I've waved the flag."
14. Keith Urban, "For You"
"And I wonder, would I give my life, Could I make that sacrifice, If it came down to it, Could I take the bullet, I would, Yes I would, for you."
15. Brooks & Dunn, "Only in America"
"Only in America, Dreaming in red, white, and blue, Only in America, Where we dream as big as we want to."
16. Dolly Parton, "Color Me America"
"I am red and white and blue, These are colors that ring true, To all I am and feel and love and do."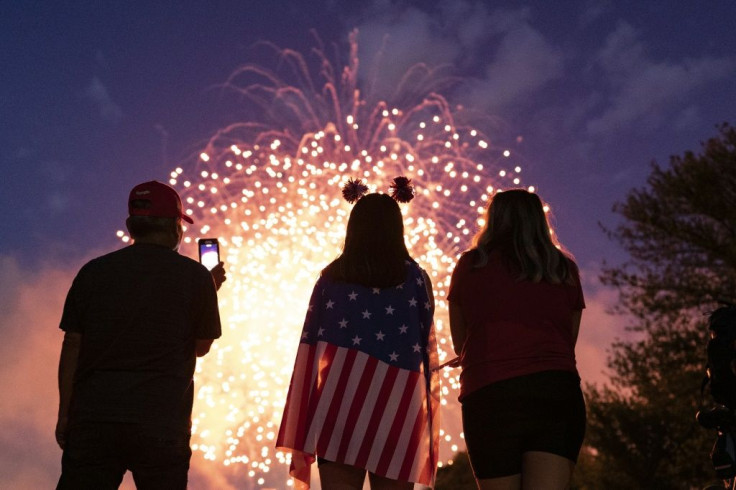 FOR FREE to continue reading
✔️ Unlock the full content of International Business Times UK for free
offer available for a limited time only
✔️ Easily manage your Newsletters subscriptions and save your favourite articles
✔️ No payment method required
Already have an account?
Log in