Mercedes-Benz F 015 Driverless Car Aims To Change Future As Tesla Inc., Google Inc. Also Try To Roll Out Self-Driving Cars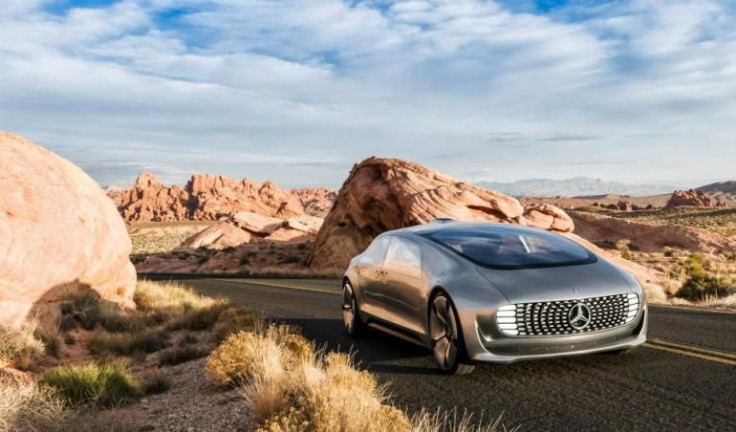 German automaker Mercedes-Benz showcased its "Luxury in Motion" F 015 self-driving car, aimed at revolutionizing the concept of autonomous driving, at a nonoperational naval base in Alameda, California, this week. The company first unveiled its latest self-driving concept car in January at the Consumer Electronics Show in Las Vegas.
Although the vehicle, specially designed for the "smart cities" of 2030, won't be released anytime soon, other companies' self-driving vehicles could be on the road in as many as 30 U.S. cities by the end of 2016, according to consulting firm Comet. It plans pilot programs for self-driving vehicles in the coming months in Seattle as well as at sites in Florida and North Carolina.
The latest technology from Mercedes-Benz comes as auto executives expect a completely self-driving car to appear in public use within five years.
But Elon Musk, chief executive of Tesla Motors, announced this week that his company would unveil autonomous technology in its cars this summer through a software update. The technology would give Model S Tesla sedans the ability to start driving themselves, which the company refers to as "autopilot" mode. It would replace the company's current 7.0 version. Musk added that self-driving cars are a "solved problem."
"We know exactly what to do and we will be there in a few years," Musk said Tuesday at the Nvidia graphical processor conference in San Jose, California. Musk also predicts that conventional driving will eventually be illegal. "In the distant future, I think people may outlaw driving cars because it's too dangerous. You can't have a person driving a two-ton death machine," he said.
Google announced earlier this year that its self-driving car will be ready by 2020. The company said it is working with some of the world's top automakers, including General Motors, Ford, Toyota, Daimler and Volkswagen. Unlike Google's self-driving car prototype, the Mercedes-Benz F 015 also includes a steering wheel.
© Copyright IBTimes 2023. All rights reserved.