Met Gala 2013: Live Stream Red Carpet Arrivals For The Metropolitan Museum of Art's Costume Institute Benefit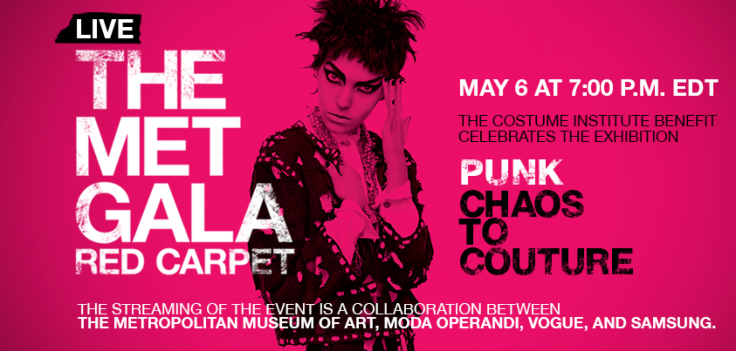 Didn't score an invite to the 2013 Met Gala? Or perhaps your punk-inspired ball gown is being held hostage at the cleaners?
Well, thankfully, you don't have to miss out on all the red carpet gossip and fashion at this year's Metropolitan Museum of Art's Costume Institute Benefit on Monday in honor of the museum's latest exhibit, "Punk: Chaos to Couture."
Red carpet arrivals will be available on several live streams online Monday, catching all the action as celebrities like Allison Williams, Psy, Jennifer Lawrence and other Hollywood A-listers and fashion mavens arrive at the gala. This year's event for the fashion-focused exhibit has Beyoncé as honorary chairwoman and Rooney Mara, Givenchy Creative Director Riccardo Tisci, Vogue Editor-in-Chief Anna Wintour and Moda Operandi co-founder Lauren Santo Domingo as co-chairs.
Hosted by Hilary Rhoda and Vogue's William Norwich, there are four places to watch the live stream of what is oft called the Oscars of the East Coast for this year:
The Met website: metmuseum.org/metgala
Vogue: vogue.com
Samsung: samsung.com/galaxys4/punk
Moda Operandi: modaoperandi.com
The live stream footage begins at 7 p.m. on all the websites. Vogue.com will post a preview of the exhibition and videos from the musical performance, allegedly Kanye West, at the Gala on Friday.
The hosting duo promised interviews with all of the co-chairs, as well as other celebrities arriving at the event beginning at 7 p.m. Best of all, the hosts will be fielding questions asked by users on Facebook and Twitter who submit queries using the hash tag "#MetQuestions."
Meanwhile, the rumor mill is running rampant with gossip about who is wearing what -- since attendees are encouraged to don designs in the theme of punk, a far cry from the chicness that is high-fashion -- and who is going with whom. The New York Times' Eric Wilson heard guests have been struggling to figure out what to wear since "rich women don't want to look punk or grunge," according to a boutique owner who is dressing clients for the event.
The guest list is also a big mystery, with many wondering whether or not John Galliano, the former Dior creative director who made headlines last year for an anti-Semitic rant, will show up. Galliano's publicist, Liz Rosenberg, told the New York Post, though, that the designer will be a no-show since he is taking "one step at a time." Speculation has also been rampant as to whether or not a very-pregnant Kim Kardashian, who was apparently snubbed last year by Wintour, will show up. Rumor has it, according to New York magazine's the Cut, she has been invited but only because her beau, West, is slated to perform at the event.
In the meantime, check out Fashionista.com's rumor roundup of which designer is taking which celebrity. Some are no surprise, like the Dior-Jennifer Lawrence pairing, but some are quite shocking.
Here's hoping to a fluid webcast Monday night for those of us watching at home. Last year, the Met Gala was live-streamed for the first time, but the Cut reported the live stream's sound was fuzzy with low resolution and kept cutting out.
This year's live-stream coverage will also feature segments about the Met's "Punk: Chaos to Couture" exhibit, WWD.com reported, which is the theme for this year's gala. The exhibition documents punk's presence on the runway since the days of the Sex Pistols, Blondie and Vivienne Westwood to its ongoing influence today. The exhibit has seven galleries with 100 designs for men and women, music videos and audio.
"Punk: Chaos to Couture" opens for the general public on Thursday and runts until Aug. 14.
© Copyright IBTimes 2023. All rights reserved.