MH17 Crash Site Today: What's Left Of Boeing 777 Nine Months After Plane Was Shot Down Above Ukraine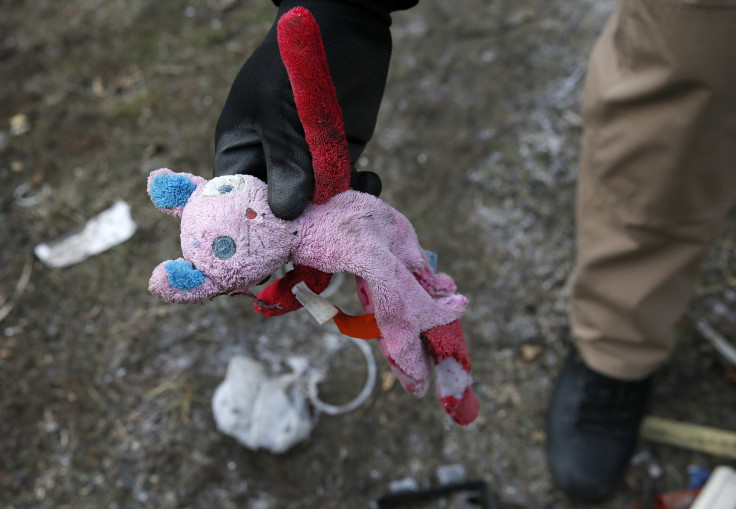 The crash site of Flight MH17 is still littered with debris and body parts nine months after the passenger airliner was shot out of the sky above Ukraine, killing all 283 passengers and 15 crew members who were onboard. Families of the victims of the tragedy continue to blame Russian President Vladimir Putin for blocking investigators from clearing the wreckage, a move that has sparked suspicions about Russia's alleged involvement in the plane crash, according to the Mirror.
"It is time now to stop the obstruction of this site, and for President Putin and his supporters to come clean on what has happened to this plane so justice can be done," a family member of one of the victims told the Mirror. Among the items recently photographed at the crash site were a burnt passport photo of one of the plane's passengers, a pair of broken sunglasses, a shot glass and a pair of ripped denim shorts. Search teams recently sent some 800 fragments of human remains to the Netherlands, however investigators believe there is more to be recovered.
Malaysia Airlines Flight 17 was downed over eastern Ukraine on July 17, 2014 while en route from Amsterdam to Kuala Lumpur. Around that time, conflict had erupted between the Ukrainian government and pro-Russian rebels over Russia's annexation of the southern Crimea peninsula. Evidence quickly emerged that the plane had been shot out of the sky by a ground-to-air missile.
Investigators pinned the shooting on Russian-backed separatist rebels, something Putin has vehemently denied. "The rebels are not shooting, that is done by the various military groups fighting on the side of Ukraine's official authorities," the Russian president said in November.
In March, a Dutch-led investigation concluded that MH17 was downed by a Russian-made Buk missile system, according to evidence gathered from the crash site and analysis of fragments of the missile that struck the aircraft. The team of investigators included experts from Australia, Belgium, Malaysia, Netherlands and Ukraine.
© Copyright IBTimes 2023. All rights reserved.