Mia Khalifa Claims BangBros Released Porn Video Featuring Her Without Her Consent
KEY POINTS
Mia Khalifa said one of her BangBros clips was released online despite assurances that it wouldn't be made public
The ex-porn star made this revelation while replying to a fan who expressed concern over her being taken advantage of
The TikTok star previously accused BangBros of pushing her content in response to her online tirades
Ex-porn star Mia Khalifa's rift with BangBros is far from over as she casually unleashed another bombshell revelation via Twitter regarding one of her adult videos being uploaded online by the company without her consent.
On Thursday, Khalifa made another allegation against BangBros while responding to a concerned netizen on social media. In a post, Twitter user @Banankongen2 noted how BangBros once "tried to make" Khalifa do a sex act despite the former porn star being "clearly in pain."
"Tell me they weren't taking advantage of her," the social media user posted.
Replying to the Twitter user, Khalifa said that the porn video @Banankongen2 may have been referring to was recorded using a smartphone and was allegedly released despite BangBros telling her that it wouldn't be made public.
"You mean like recording it on an iPhone and releasing against my expressed consent when I was assured it wouldn't be?" Khalifa replied.
Previously, Khalifa lashed out at BangBros for deceiving her with a photoshoot where she claimed to have been made to feel "cheap and used."
"I was a pawn to them, they never saw me as a human being with a soul and a future," Khalifa said of BangBros, which she also accused of pushing her content in response to her online tirades.
Khalifa's new jab is just the latest in the word war between BangBros and the retired porn star, who repeatedly told her followers in the past that she only made 11 videos in her brief stint in the adult film industry in 2014. Khalifa, who discouraged her fans from following in her footsteps, had since expressed her regret over making the clips.
Khalifa, who used to top charts of adult film sites, maintained that she only stayed with the industry for three months and only earned $12,000 from her porn videos.
The porn studio has since retaliated with its own campaign, called "Facts Beat Fiction," which claims to uncover the truth behind Khalifa's previous statements about the adult industry. BangBros said Khalifa's "false statements, innuendos, and accusations" left it with no choice but to respond.
One statement BangBros said was "false" was Khalifa's claim that she only got $12,000 for her porn videos. BangBros argued that she received at least $178,000 from the company and its affiliates.
BangBros also said that the ex-porn star was in the adult film industry for two years and nine months as opposed to the three-month stint she claimed to have had.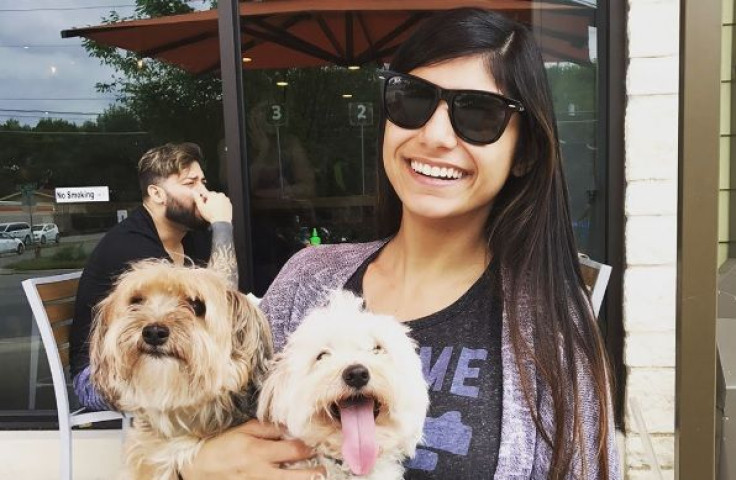 © Copyright IBTimes 2022. All rights reserved.
FOLLOW MORE IBT NEWS ON THE BELOW CHANNELS