Michael Brown Shooting: Darren Wilson's First Account Of Events Claims He Feared For His Life: Report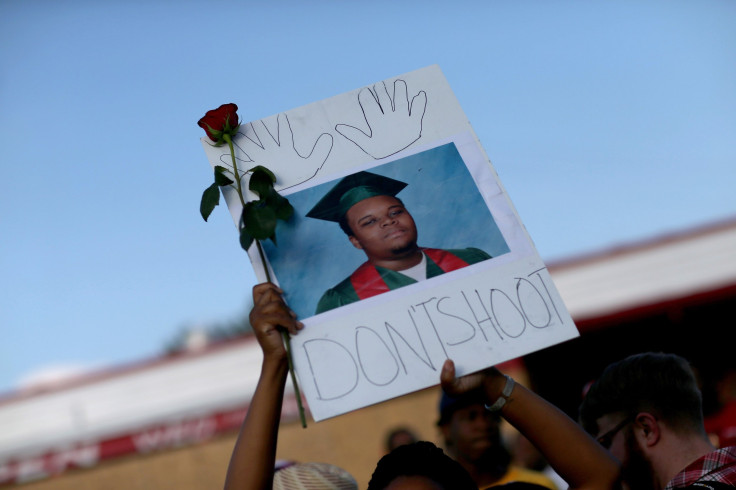 Police officer, Darren Wilson, who fatally shot Michael Brown in Ferguson, Missouri on Aug. 9, told investigators that he feared for his life during the encounter and was pinned down in his police car during a struggle for his gun, The New York Times reported Friday. The St. Louis suburb witnessed weeks of protests, which have sometimes turned violent, since the shooting death of the 18-year-old unarmed black teen.
The Times' report was the first public airing of the account of events that Wilson gave investigators. The paper reported that Wilson told authorities that during the struggle inside his car, Brown reached for his gun, which the FBI said was fired twice inside the vehicle.
A forensic test report reportedly showed Brown's blood on the gun, on the interior door panel of the car and on Wilson's uniform. Wilson also told authorities that Brown punched and scratched him repeatedly which left swelling in his face and cuts on his neck.
The Times reported that Wilson's account contradicts those of several eyewitnesses, but that the forensic evidence recovered inside his police car did appear back the officer's version of events. The paper added that Wilson's account does not explain why, after emerging from his vehicle, Wilson shot Brown multiple times. An independent autopsy, which was conducted at the Brown family's request, stated that the teenager was shot at least six times, including twice in the head.
Authorities said, according to The Times, that while a federal investigation was ongoing, the evidence so far did not support civil-rights charges against Wilson.
A state grand jury is hearing evidence in the case, which will determine if Wilson will be charged in Brown's death. According to The Times, legal experts believe that Wilson's account of the struggle in his car could act as an "influential piece of information" for the grand jury that highlights the white officer's feeling of vulnerability and a sense of threat when he killed Brown.
"When you're raising your arms to surrender, it hits a reset button," Anthony Gray, Brown's attorney said, referring to witness accounts that the black teen raised his hands after the struggle at the car, the St. Louis Post-Dispatch reported. Gray also reportedly said that he would not dispute that something happened between Brown and Wilson in the police vehicle. But it remains unclear why Wilson would go after Brown and perceive him as a threat outside the vehicle.
"His actions contradict the presence of fear," Gray reportedly said. "You're fearful, a guy's running, but you're going to get out and chase him? How many people do you know chase something that you're fearful of?"
© Copyright IBTimes 2023. All rights reserved.