Michael Strahan Reportedly Leaving 'Live With Kelly And Michael' Due To 'Bullying' From Kelly Ripa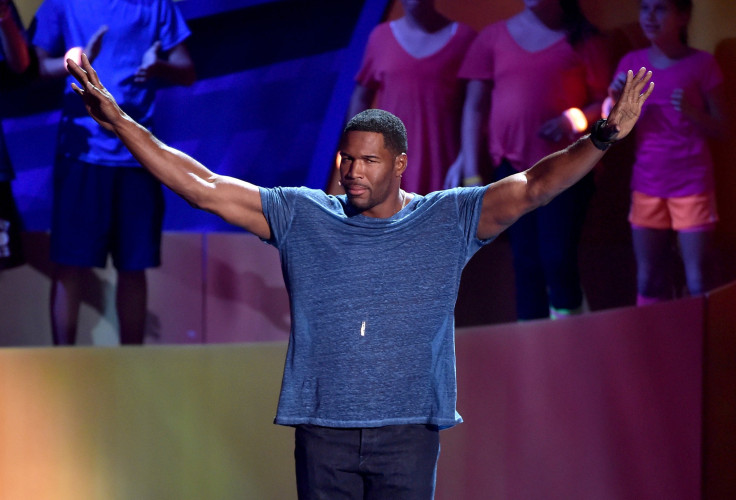 Michael Strahan used to face off against some of the biggest athletes in the world who'd try to intimidate the former defensive lineman during his time in the National Football League. Despite what he dealt with in the past, reports are suggesting that Kelly Ripa could be one of the people that got under Strahan's skin the most in his post-football career. So much so that it could have led to his decision to leave "Live with Kelly and Michael."
A source told TMZ that part of why Strahan decided to make the move to "Good Morning America" was because Ripa was "bullying" him. But it wasn't something you could pick up on camera. Other sources added that Strahan had gotten tired of Ripa and she wasn't happy that he "stole some of her shine" on the show. However, there were also reports that the idea of Ripa "bullying" Strahan was "a joke."
"American Ninja Warrior" host Akbar Gbajabiamila tried to shoot down the rumors of drama between Ripa and Strahan with a Twitter post on Tuesday morning. He posted a picture of himself alongside the two co-hosts. You can see his post below:
Last Tuesday, ABC announced that Strahan would be moving to "Good Morning America" full-time in September. Strahan had joined Ripa on "Live With Kelly and Michael" in 2012 following the retirement of former co-host Regis Philbin. The show will look for Ripa's new co-host this fall when the new season begins.
When Strahan goes to "Good Morning America," he will see a big rise in his salary. People magazine reports that he will get a salary around $20 million, which is double what he was making on "Live with Kelly and Michael." The increase would see him making more than Ripa, who makes a little less than $15 million for her role as co-host, according to TMZ.
Ripa returned to "Live with Kelly and Michael" on Tuesday morning. According to People magazine, Ripa sent an email to her staff Friday night saying she needed "time to process this new information."
© Copyright IBTimes 2023. All rights reserved.
FOLLOW MORE IBT NEWS ON THE BELOW CHANNELS