Michelle Obama Shares What Typical Dinners At Home Are Like, What They Eat
KEY POINTS
Michelle Obama said eating dinner as a family is an "important ritual" for them
The former first lady said that pizza is among their favorites at home
The Obamas usually eat dinner "at about 6:30" p.m. and serve "different kinds of foods"
Michelle Obama has given a glimpse into what a typical family dinner at her and former President Barack Obama's home is like and what they usually like to eat.
In an interview with Entertainment Tonight, the former first lady spoke about how their family has been handling the COVID-19 pandemic and how they've been spending their time during the lockdowns. Obama highlighted how important dinners are for her, her husband and their two children, Malia, 22, and Sasha, 19.
"We have our health and we are together as a family. And we're not getting on each other's nerves, so we count our blessings," Obama told ET. "We try to eat dinner together as a family every night. That's a pretty important ritual, so we usually have dinner at about 6:30, that's pretty regularly, and we have different kinds of foods."
When it comes to the food being served, Obama makes sure that they have a balanced meal that includes vegetables and carbohydrates. Their family's favorite dish? Pizza, according to the former FLOTUS.
"Pizza is on the list, it's one of the favorites, but it's pretty balanced," Obama continued. "We usually try to have a delicious protein and a vegetable. And then depending upon what I'm trying to accomplish -- for me, personally, I may not have a carb -- but then there's my husband, who needs lots of food, eats tons of carbs. So we try to make sure it's balanced."
Obama explained that it's important they eat together and that this "ritual" has been a tradition for their "entire lives."
"That's an important time for us to catch up. Even in quarantine, when we would be apart all day in separate rooms, it was just a good way to check in, to see each other, to ask how our days were going even though nothing was going on," she said.
In a previous interview, Obama also talked about how important eating dinner together was for their family. In fact, even when her husband was president, they made it a point to still eat together at home.
"Even as Barack being the president of the United States, he worked his schedule around their schedule. They weren't waiting until 9 o'clock at night to eat because dad was running late," Obama added. "They never couldn't not go somewhere or do something because of dad. I never wanted them to resent the presidency, or resent what their dad did."
Obama has a new show titled "Waffles + Mochi" on Netflix. She said the series, which premieres Tuesday on the streaming platform, is all about good food, including discovering, cooking and eating it.
"I also know that this is a difficult time for so many families, and I'm hopeful that this delightful show can bring a bit of light and laughter to homes around the world," Obama wrote on Instagram of her new show.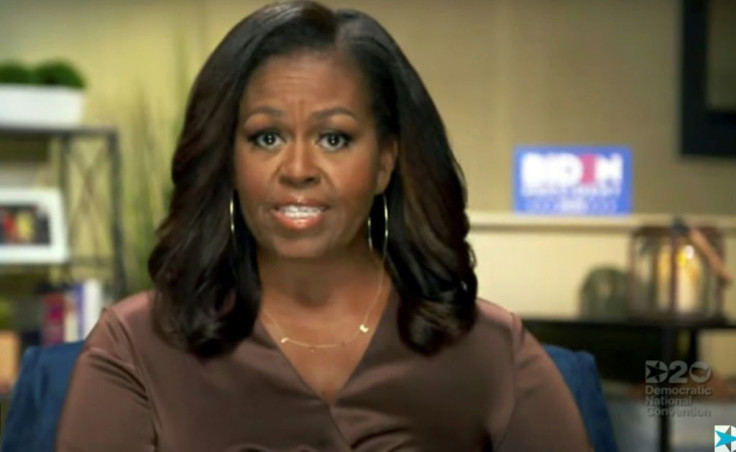 © Copyright IBTimes 2023. All rights reserved.