Microsoft Windows 10 System Requirements: How To Check If Your PC Or Tablet Can Upgrade To Windows 10 Home Or Pro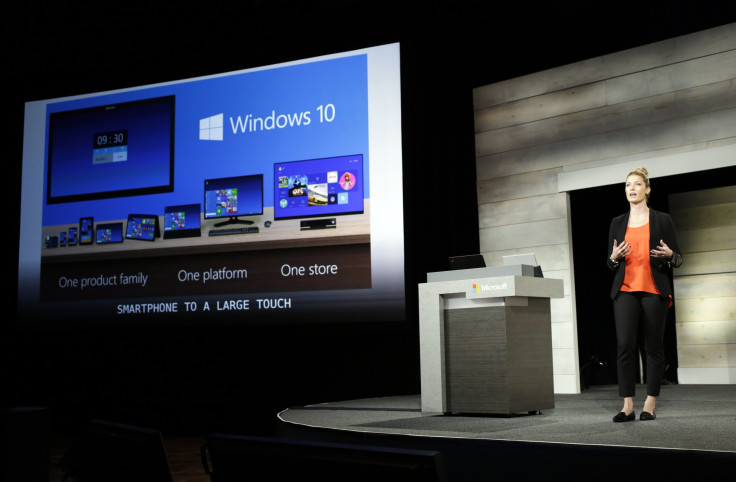 Windows 10, the next Microsoft operating system, will roll out on July 29, the company said this week, meaning now is as good a time as any to start getting your PCs and tablets ready to upgrade to Redmond's "last great OS." Here's a quick guide to checking if your machine can handle Windows 10 and, if it can, to the upgrade process itself.
This guide applies only to Windows PCs and tablets. Microsoft has not yet announced which Windows smartphones will be able to upgrade to the mobile version of Windows 10 or when that upgrade will be available. Microsoft previously said that all Lumia Windows Phone 8 devices would be able to make the jump to Windows 10, but more recently, it said that "not every phone will upgrade or support all possible Windows 10 features."
The Hardware Specs
For starters, you'll have to make sure your device has all the hardware components necessary for Windows 10. To run Windows 10 your computer will need a processor that's 1 gigahertz or faster. You can check for this on both Windows 7 and Windows 8.1 by clicking the "Start" button, right-clicking "Computer" and then selecting "Properties." Once there, you'll be able to see your processor speed and type within the "System" section.
There you can also determine how much RAM your computer has, which you'll also need to know. If you're upgrading to the 32-bit version of Windows 10, you'll need 1 gigabyte, and if you're going for the 64-bit version, you'll need 2 GB.
Once you've done that, you'll need to make sure your hard drive can handle the upgrade. If you're going to be running the 32-bit version of Windows 10, you'll need 16GB of free space on your drive, and if you're running 64-bit, you'll require 20GB.
Windows 10 also requires graphics cards with DirectX 9 or later with a Windows Display Driver Model 1.0. You can check what kind of graphics card you have by clicking "Start," then "Run" and in the "Open" box, type in "dxdiag" and click "OK." This will open up the "DirectX Diagnostic Tool" where you'll click on the "Display" tab, which will show you information about your graphics card in the "Device" section.
Specs wise, the final hurdle is making sure your screen resolution is up to par. You can head here to check that. It must be at least 1,024 x 600 pixels.
After all of this, you'll want to make sure that you are running the latest version of either Windows 7 or Windows 8, meaning Windows 7 SP1 or Windows 8.1, so that you can upgrade for free. You can check what operating system your machine currently has by heading to this Microsoft website. If your PC is not on the latest version, go here to get Windows 7 SP1 or here for directions on how to get Windows 8.1.
If you've gotten this far, the bad news is you still might not be able to upgrade. You'll also have to make sure that your computer matches all of the driver and firmware criteria necessary to run Windows 10. You can do this by checking the "Get Windows 10 app" notification, which Microsoft is pushing out to qualified PCs. After you open the app, check that your system meets the requirements by using the "Check my PC" option.
If you've cleared the final hurdle, you can ensure you get your free download of Windows 10 by using the Get Windows 10 app to make a reservation by right-clicking the "Get Windows 10" icon and then selecting "Reserve your free upgrade." You can also cancel a reservation any time before July 29 by opening the app, clicking the three-line icon on the top left, selecting "View Confirmation" and then choosing the "Cancel Reservation" option.
Windows 10 Price Information
Windows 10 is free for users who already own Windows 7 SP1 and Windows 8.1, but you'll have to make sure you upgrade before July 29, 2016 if you don't want to pay for the new OS.
If you upgrade Windows 7 Starter, Home Basic, Home Premium or Windows 8.1, you will get Windows 10 Home. If you upgrade Windows 7 Professional, Ultimate or Windows 8.1 Pro or 8.1 Pro for Students, you'll get Windows 10 Pro.
And if you're building your own computer or need to buy a copy of the new operating system for whatever reason, you'll have to pay $119 for Windows 10 Home or $199 for Windows 10 Pro.
Beyond some coin, you may also have to give up some of your computer programs. Microsoft warns that some custom software from manufacturers like Dell or HP, for example, may get deleted after you upgrade. The company will also show you a list of any third-party apps that aren't Windows 10 compatible and ask you to accept their removal before the installation process proceeds.
The Windows 10 upgrade will also remove and upgrade your computer's anti-virus software. If your subscription is still current, Windows 10 will reinstall the latest version of that software. If not, it will be replaced with Windows Defender.
Finally, Windows 10 will also remove Media Center from any versions that carry it, it will remove Windows 7 desktop gadgets and it will also get rid of the Solitaire, Minesweeper and Hearts game from Windows 7 computers and replace them with "Microsoft Solitaire Collection" and "Microsoft Minesweeper."
But just because your computer can upgrade to Windows 10 does not mean it will be able to use all of Windows 10's features. Windows Hello, which uses facial recognition to unlock your device, for example, requires illuminated infrared, depth-sensing cameras such as the one on the Microsoft Kinect to work, meaning your Webcam won't cut it.
If your computer is eligible for Windows 10, give yourself a pat on the back and then make sure you backup your system before July 29. New technology is always buggy and accidents (read: files get deleted) can happen from time to time. Avoid losing files by copying them onto an external hard drive or a cloud service like Microsoft OneDrive, Google Drive or Dropbox before you make the upgrade to Windows 10.
© Copyright IBTimes 2023. All rights reserved.