Miley Cyrus And Liam Hemsworth Are Secretly Married, Had Romantic Beach Wedding In Australia: Report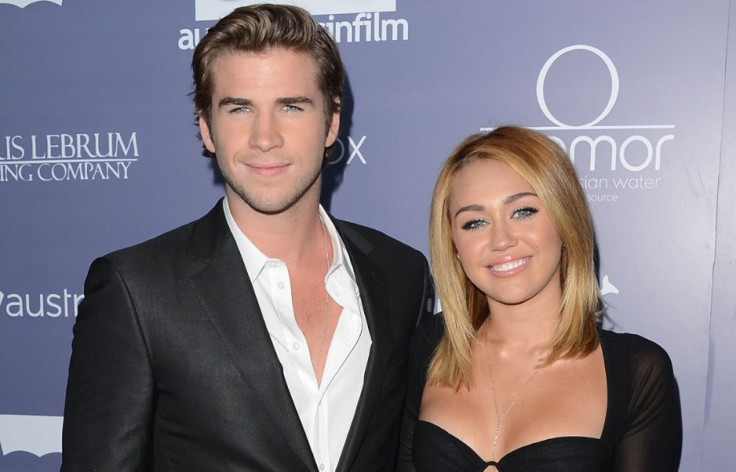 "Wrecking Ball" singer Miley Cyrus and "Hunger Games" hunk Liam Hemsworth secretly tied the knot over the winter holidays, Life & Style wrote in an exclusive report Wednesday. The couple, who just recently got back together, have not announced their apparent nuptials.
Cyrus, 23, and Hemsworth, 26, had a sunset ceremony on the beach in Australia, though Life & Style did not mention which specific location the stars chose. The only people who know about the wedding are close family and friends. "It was a spur-of-the-moment. Now they both refer to each other as 'my wife' or 'my husband,' " an insider told the magazine, according to Hollywood Life.
Something so spontaneous might have Cyrus' name written all over it, but it was actually Hemsworth who wanted to make things official. The star was inspired by her visit to the sunburnt country last month. "He corralled his brothers [Chris Hemsworth, 32, and Luke Hemsworth, 35] and tipped them off that he wanted to stage a surprise ceremony during Miley's visit," the source said.
Elsa Pataky, Chris' wife, reportedly officiated the nuptials. "Liam asked everyone in his family to [light] a candle," the source said, adding they "lit each one, saying it represented the eternal flame of their love."
The day was filled with passion. "Liam choked up as he began describing his love for Miley," the source said. "Then Miley started crying, too. It was very emotional."
Since rekindling their love, Hemsworth asked the former child star to tone down her outrageous behavior on social media. "There are certain things that Liam and Miley will never see eye to eye on and one of those is social media. He can't stand it and she lives for it, but when she's with him she stays off it to make him happy," an insider told Hollywood Life last month.
Follow me on Twitter @mariamzzarella
© Copyright IBTimes 2023. All rights reserved.