Miley Cyrus, Patrick Schwarzenegger Update: Model Still Feels For Cyrus, Wants To Get Back With Her, Report Says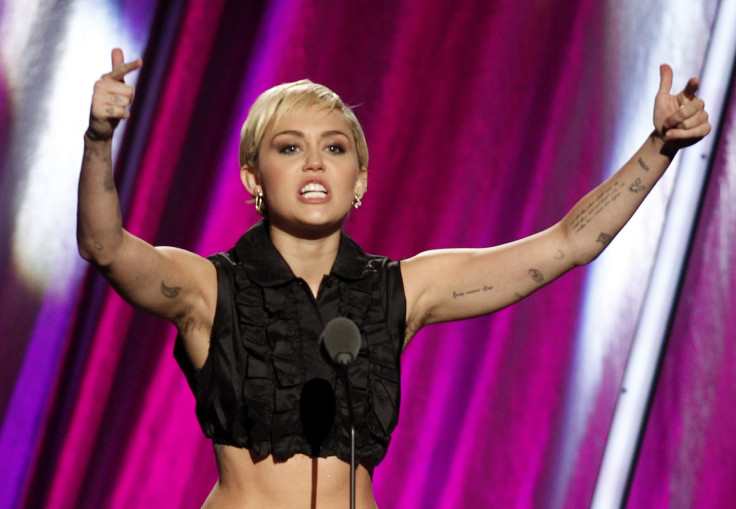 Patrick Schwarzenegger still has feelings for his former girlfriend Miley Cyrus, who broke up with him last month, a source told Hollywood Life. The 21-year-old model has been reportedly making efforts to get in touch with Cyrus.
"Despite the fact she's completely ignoring him since they split, Patrick isn't giving up on Miley," the source told Hollywood Life. "He has been calling her and texting but to no avail because she never responds. Unfortunately he still wants her back."
The "Wrecking Ball" singer decided to split with Schwarzenegger after he was photographed with a girl during his spring break trip to Cabo San Lucas, Mexico, in March. The same day, he was also photographed with his former girlfriend, Taylor Burns, giving rise to speculation that he may have been cheating on Cyrus.
However, Schwarzenegger denied the allegations, saying that the girl, who was not identified, was one of his best friend's girlfriend and that he "would never do anything against" Cyrus.
The 22-year-old singer's father, Billy Ray Cyrus, defended Schwarzenegger's behavior in Mexico, saying that he was just having fun and that he is a "good boy."
But even after Schwarzenegger pleaded his innocence, Cyrus ended their relationship that lasted only five months.
Just weeks after their split, Cyrus was reportedly spotted with her former fiancé, actor Liam Hemsworth. Some sources reportedly said at the time that "dating could definitely happen" between the two.
Cyrus and Hemsworth, who had been in a relationship for two years, were reportedly on talking terms even when the former dated Schwarzenegger.
"Patrick feels like Miley is a huge hypocrite," another source told Hollywood Life. "She made such a big deal about honesty and flipped out when she found out he was hanging out with his ex at Coachella, and it turns out she was doing the same thing with Liam!"
© Copyright IBTimes 2023. All rights reserved.