Millie Bobby Brown Reveals She Sought Therapy Due To Online Bullying
KEY POINTS
Brown was 12 when she landed a key role in Netflix's "Stranger Things"
The actress deleted all social media apps from her phone due to bullying
Staying away from social media helped her grow and realize her worth
Millie Bobby Brown opened up about the negative impact social media had on her life after her breakout role as Eleven on "Stranger Things." The 18-year-old revealed she had to seek therapy to cope with the constant bullying she faced online as the Netflix series became a massive hit worldwide.
"It's really hard to be hated on when you don't know who you are yet," Brown said in an interview with Allure magazine.
She said the amount of bullying she had faced as a child star took a toll on her, following which she decided to cut herself off from social media. "Then you just start shutting down because you're like, 'Who am I? Who do I need them for?'" she said.
Brown, who was only 12 years old when she landed a key role on the show, revealed that the only social platforms she had not deleted were Instagram and Facebook, both of which are handled by someone else. Following that, she decided to go to therapy to get through the bullying.
The actress said the journey has been tough and was grateful to her family and friends for supporting her through it. She further pointed out that staying away from social media has helped her grow.
"I started growing more, and my family and friends really helped me. It helped me understand that I didn't have to be anything they said I should be. I just needed to grow within myself. That's what I did. That's what I'm doing," Brown said.
Later in the interview, Brown talked about her relationship with TikTok star Hunter Ekimovich, describing it as an "unhealthy situation." She also spoke about her decision to walk away from Ekimovich in January 2021.
"Also, no one on the set knew I was going through this. So it was kind of nice to be able to just deal with that myself and no one else knew. Then it was harder when the whole world knew," Millie recalled.
In July 2021, Ekimovich took to social media and claimed that the two young celebrities were engaged in an inappropriate relationship and that he "groomed" the "Enola Holmes" actress.
Millie is currently dating 20-year-old Bongiovi, the elder son of Jon Bon Jovi.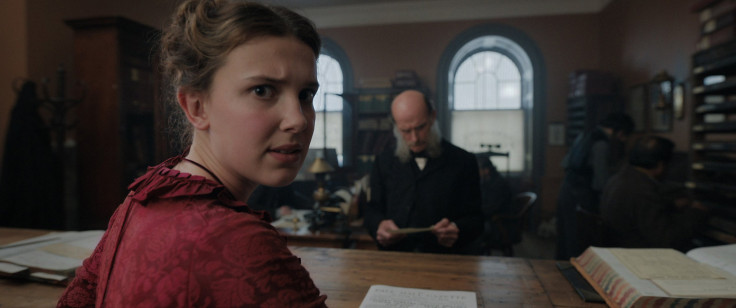 © Copyright IBTimes 2023. All rights reserved.