Missing Florida Woman May Have Been Dragged Into Pond By Alligator
Police in Florida are searching for a woman who they suspect may have been dragged into a pond by an alligator. The woman, who was not identified by police in initial reports, was reportedly spotting walking her dogs near a pond in Davie, Florida, on Friday before she disappeared.
One witness said he saw the woman walking two dogs in the south Florida city's Silver Lakes Rotary Nature Park before noticing that she was gone and her dogs were unaccompanied. The witness told police the dogs were barking near the water after she went missing, according to the South Florida Sun-Sentinel.
Trappers on the scene spotted a 12-foot alligator in the pond and were monitoring the situation on Friday afternoon. Police want to send a team of divers into the pond to look for the woman, but that cannot happen until the alligator has been removed from the water.
The dogs are safe, though one of them reportedly was bitten by the alligator. They were given to animal control, according to CBS Miami. One woman told the Sun-Sentinel that she believed she heard the alligator hissing in the area the day before. Apparently, her dog got scared and briefly ran away before returning unharmed.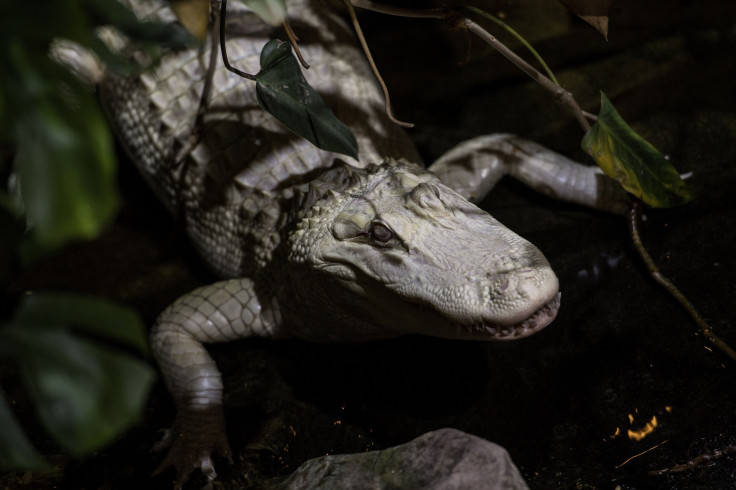 The pond is in a populated area, following a common trend in Florida in recent years. Alligators have always favored the state's climate, meaning new housing developments are likely to encroach upon the large reptiles' habitats. They frequently show up in residential or commercial areas, such as one that parked outside a Target store in Florida in April.
Even so, it is relatively rare for an alligator to directly kill a human in Florida. There have been 22 deaths directly attributed to alligator attacks in Florida since 1948, per the Sun-Sentinel. That includes the 2016 drowning of a 2-year-old boy at a Disney resort.
© Copyright IBTimes 2023. All rights reserved.