Moshe Feiglin: The Religious Jew Who Might Be A Future Israeli Prime Minister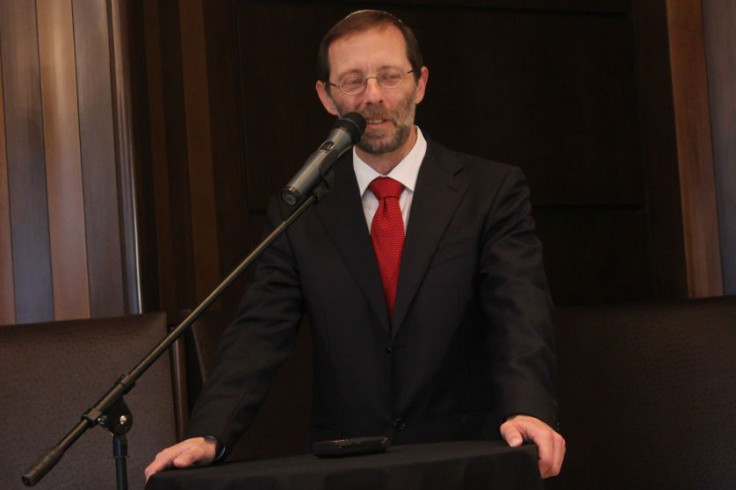 There are no Palestinians; it's all a ruse -- there is no Palestinian history or Palestinian anything in Israel, at least according to newly elected Knesset Member Moshe Feiglin.
Feiglin made the comments when he spoke to a group of political donors and Jewish and Israeli journalists at the Chateau Steakhouse in Fresh Meadows, Queens, in New York City, on Monday night at a dinner sponsored by the American arm of Manhigut Yehudit, the political party he founded in Israel.
Feiglin made the comments in response to a question on how Feiglin reacted when the Palestinian Authority gained recognition as a non-member observer state at the U.N. last November. "It is meaningless, what they decided," Feiglin continued. "I've heard this same decision made in the last 20 years at least three, four times."
"We can just hope that [Prime Minister Benjamin] Netanyahu will build as he says he will in Jerusalem more and more," Feiglin finished, expressing a rare moment of support for the leader of his party, Likud, with whom he has historically disagreed on several issues.
The dinner in Queens was held to celebrate Feiglin's election to the Knesset, a feat many years in the making, beginning in 1995 with Feiglin's founding of Manhigut Yehudit, whose name in Hebrew means Jewish Leadership. The goal of Manhigut Yehudit is to "return the country to the people and lead the State of Israel through authentic Jewish values."
Feiglin is still the leader of Manhigut Yehudit, despite having been invited to join the Likud party in 2005.
One of Feiglin's main campaign points was making a distinction between Jews and Israelis. "We need a leadership that believes in God and fears God," Feiglin emphasized at the pre-dinner press conference. "Not established in 100 years of Zionism, but 4,000 years of Judaism. Israel needs a new identity."
The restaurant was packed to the brim with Feiglin's supporters, almost all of whom were Jewish, ranging from Reform Jews to the black-hatted, impressively-bearded Orthodox Jews, several of whom were declared supporters of Ron and Rand Paul. Bernie Quigley, a reporter for the Hill who wrote an article favorably comparing the policies of Ron Paul and Feiglin, was particularly well received by Feiglin's team. Prior to the press conference, two supporters engaged in a discussion about how the U.S. government purposefully bankrupted the educational program "Hooked On Phonics" in order to dumb down the American populace.
Tall and thin, with a short beard and dark blue eyes, Feiglin spent most of the evening talking about his vision for the future of Likud and Israel. This future, of course, includes possibly his own Premiership.
"I've never hid the reason why I came to politics to begin with," said Feiglin, who is an avid detractor of the Oslo Accords, and who also advocates for revoking the citizenship of Israeli Arabs.
Of the current government, Feiglin had few kind words for Netanyahu's recent decision to include left-wing leader Tzipi Livni in the still-forming coalition government. "I'm sure you understand I oppose these acts," he said, referring to the demolitions of Israeli settlements in the West Bank. Livni is a known supporter of the two-state solution peace process and is slated to become the next Minister of Justice. Feiglin is a declared annexationist.
"When I am Prime Minister, God willing, Tzipi Livni will not be in my government," he declared.
"When the time comes and there are primaries, I will be there," Feiglin promised his assembled supporters.
© Copyright IBTimes 2023. All rights reserved.