Mossimo Giannulli In Solitary Confinement In Prison, Internet Says It's 'A Bit Much'
Fashion designer Mossimo Giannulli was sentenced to five months in prison last year after pleading guilty in the college admission scandal. After beginning his sentence in November, he's now hoping for an early release after experiencing solitary confinement for over 50 days.
The 57-year-old has served 56 days in solitary confinement because of COVID-19 guidelines and restrictions but has tested negative for COVID-19 many times throughout his stint in prison.
Actress Lori Loughlin, his wife, who finished serving her sentence in December, has filed an emergency motion in hopes of having her husband finish his sentence at home, according to court documents obtained by E! News.
On Jan. 7, the same request was filed but denied.
Originally, Mossimo was supposed to quarantine for the time required and then be transferred to a minimum-security facility/camp. Instead, he's been spending his time in his cell next to prisoners who are considered "medium security," his lawyer claims.
Before he was transferred to a minimum-security section on Wednesday, he was only allowed to have three breaks away from his cell each week.
"Every day that Mr. Giannulli spent in isolation caused harm to his physical, mental and emotional health," the motion states. "Mr. Giannulli respectfully submits that the severe circumstances of his extended confinement in solitary quarantine in a cell at USP Lompoc for eight weeks constitutes sufficiently extraordinary and compelling reasons to modify his sentence and order his transfer to home confinement."
Similar to the backlash Loughlin received for being released a couple of days early from prison for her part in the scandal, news of Giannulli's prison experience has also drawn a big public reaction. When Giannulli's release request was unveiled, many took to social media to sound off.
Others have sided with Giannulli, stating the conditions of his prison life seem excessive.
"You would think he committed murder," wrote one commenter.
While Giannulli pleaded guilty to one count of conspiracy to commit wire and mail fraud and honest services wire and mail fraud to get his daughters, Olivia Jade and Isabella Rose, into college, Loughlin was only charged with one count of conspiracy to commit wire and mail fraud.
Loughlin, 56, started serving her sentence last fall and was released from her two-month prison sentence in December. She also had to pay a $150,000 fine and complete 100-hours of community service.
Giannulli was ordered to pay a $250,000 fine and complete 250 hours of community service. His expected date of release is in April.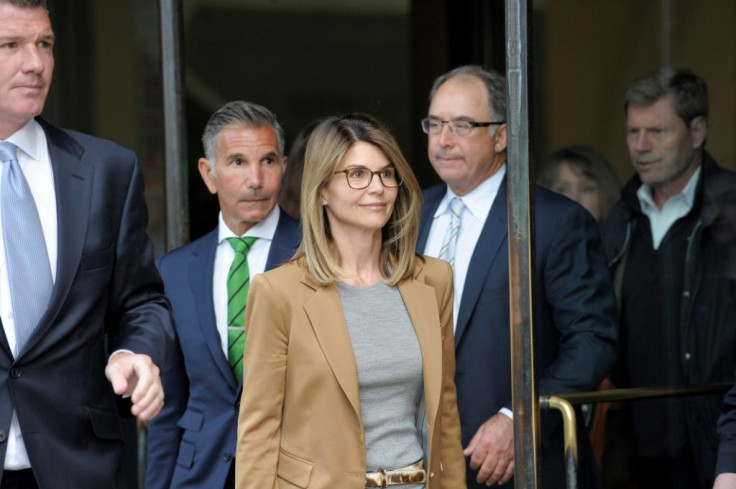 © Copyright IBTimes 2023. All rights reserved.