Muhammad Ali Phoenix Hospitalization Update: It's A 'Sad Situation,' Ex-Wife Veronica Porche Says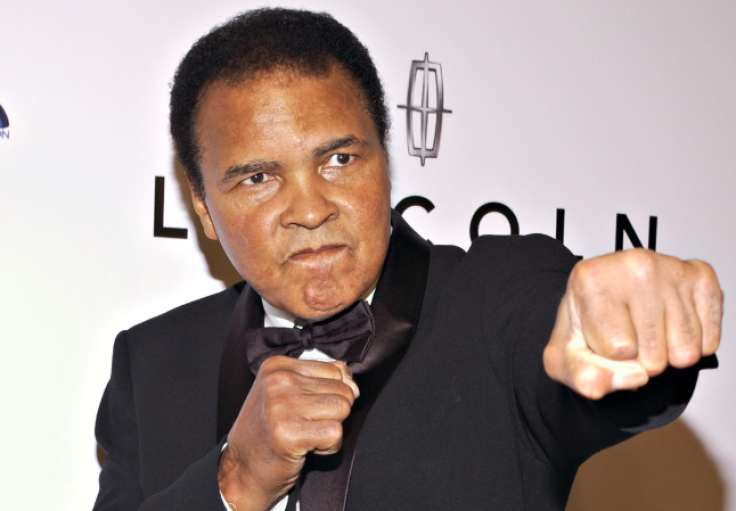 Boxing legend Muhammad Ali remains hospitalized in Phoenix, where he lives, after he suffered respiratory problems Thursday. The three-time world heavyweight champion's condition could be dire, Radar Online reported.
His ex-wife, actress Veronica Porche, said their two daughters, Laila, 38, and Hana Yasmeen, 40, were en route to the hospital Thursday. Porche was Ali's third wife. They were married from 1977 to 1986.
"My daughters have both flown there, and I will be hearing from them when they arrive at the hospital," she said. "I can't comment more than that, but I will say it is not so great, I'll just say that much." Porche, 60, didn't have anything hopeful to say about Ali's current condition, except that he's "a real hero."
Ali, 74, was hospitalized twice in recent months. He had a severe urinary tract infection, but was originally diagnosed with pneumonia. "The last time was tough. It's a sad situation. We'll be hearing soon," Porche said about his latest hospitalization.
Ali's spokesman, Bob Gunnell, told ESPN the American sports legend would be hospitalized for a "brief" amount of time. "At this time, the Muhammad Ali family respectfully requests privacy," Gunnell said. "He is being treated by his team of doctors and is in fair condition."
Ali, born Cassius Marcellus Clay Jr. and known as "The Greatest," has Parkinson's disease. He was diagnosed with the neurological condition when he was 42 years old, just three years after he retired from boxing in 1981.
Ali is currently married to Yolanda Williams. Altogether he has nine children, seven daughters and two sons.
Follow me on Twitter @mariamzzarella
© Copyright IBTimes 2023. All rights reserved.