Mussels from Brussels living strong into third century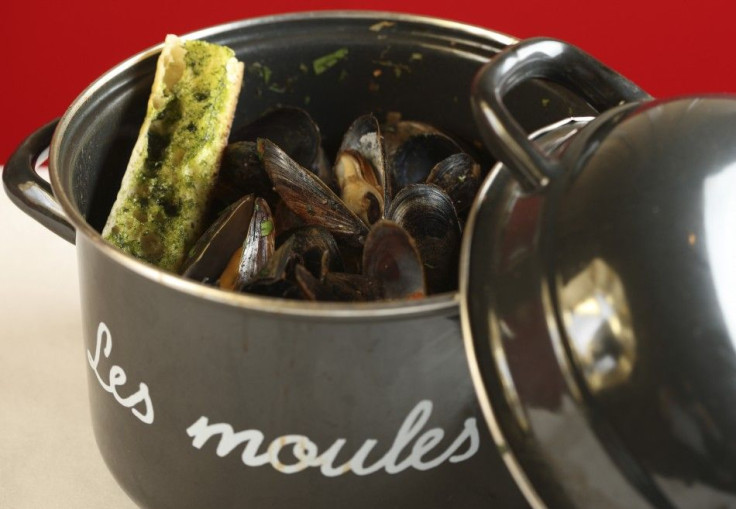 Even if you had no clue what Chez Leon, a Brussels culinary institution for more than a century, serves up, it wouldn't be too hard to work out it once you step through the door.
The restaurant's tile booths are decorated with hundreds of mussel shells, caricatures of mussels coat the corridors and on one wall stands a vast mural depicting brave, sturdy mussels attacking cowardly hamburgers with heavy weaponry.
Then the heart-warming aroma of steaming shellfish hits you and it's pretty obvious -- Chez Leon serves mussels, cooked not just one way but 15 different ways, with Belgian frites on the side, and has been selling the succulent little molluscs almost uninterruptedly for 110 years, closing for only 16 days during World War I and two months in World War II.
In that time, it has become a virtual pilgrimage site for anyone who has ever enjoyed tucking in to a bowl of bivalves.
Former U.S. President Jimmy Carter, French rock and roll legend Johnny Hallyday and Secretary of State Hillary Clinton -- who pitched up unannounced in March 2009 with a phalanx of bodyguards and ate upstairs alongside two stunned backpackers -- have all come from afar to slurp Chez Leon's specialty.
That is why we are famous, says Alexandre Vanlancker, son of the third generation owner of the restaurant, which has, almost inevitably, spawned a franchise and copycats. Everybody can eat here, rich to poor.
Locals readily agree, and pack themselves into the rambling diner, cobbled together over the years from nine adjacent houses, with the same eagerness as the stream of tourists.
I can find happiness for 20 euros, says Michel Silvester, a 67-year-old Belgian, when asked to consider what has kept him coming for more than a decade to enjoy a classic: 800 grams (28 ounces) of mussels steamed in water, butter, onions and celery.
Shingo, a Japanese patron, regularly makes his way to Chez Leon, tucked down a narrow alleyway behind Brussels' famed Grand Place, from his home in Paris to indulge his tastebuds.
I ate mussels in Paris but it's better here, he says simply, contemplating a bowl stacked high with shells cooked in tomatoes, sweet peppers and garlic -- with fries on the side.
Even Bob Dylan, troubadour and cultural commentator par excellence, saw fit to honour the city and its seafood, singing with characteristic gravelliness in 1971:
Well I left Rome, and landed in Brussels/ On a plane ride so bumpy that I almost cried/ Clergymen in uniform, and young girls pulling mussels.
Undoubtedly then, mussels and Brussels would appear to go hand-in-hand -- and not in the way actor Jean-Claude Van Damme, a.k.a the muscles from Brussels meant it -- but what exactly is it that makes the humble pinky-orange mussel such an enduring Epicurean experience?
SEABED DWELLERS
Mussels start as larva, until they are heavy enough to sink to the bottom of the sea, where they grow wiry threads -- known as beards -- that allow them to latch on to anything around, forming great clumps of dark and heavily encrusted shells. There in the deep, they feed heartily on plankton and grow plump.
Marine mussels tend to live on exposed shores in intertidal waters and after two to three years are ready to be harvested. Zeeland, on the north coast of Belgium and the western Netherlands is a perfect place for the young molluscs to grow up and was long the source of most mussels in Belgium.
However, over-fishing forced producers to move further north into the Wadden Sea in the 1950s, and by the 60s and 70s producers were having to go as far as the coasts of Germany and Northern Ireland to find sufficient mussels for harvesting.
These days, producers such as Krinj Verwijs get only 50 percent of their mussels from Zeeland and the Wadden Sea, while others such as Trinton Yerseke rely more heavily on the region. The producers make up the difference by harvesting extra from the coasts of Germany and Ireland.
Krinj Verwijs is one of around seven major producers, collecting around 150 tonnes a day during the high season, which runs from late July until April. From May until July, mussels are busy reproducing and are not considered at their best.
As a result, the anecdotal guidance has always been that one should eat mussels only when there's an 'r' in the month, although these days they are a year-round food as the molluscs can easily be farmed in Greece or Italy out of season.
Such is the demand for what was once considered the 'poor man's meat' that mussels have risen steadily in price.
In the 1950s, a kilogram of mussels could be had for pocket change, according to Mario Zucca, who has worked at Chez Leon for more than 40 years. These days, a kilo costs around 5 euros in a supermarket, and some restaurants will charge 22-25 euros for a meal consisting of around 1 kg of the shellfish.
IT'S ALL ABOUT THE STEAM
Once dredged from the seabed, mussels will stay alive in their shells for four to six days. Fishermen pack them into jute sacks, which shrink when they get wet and so press the shells more tightly together to keep the contents fresh.
At plants along the coast, the shells are debearded and washed before being piled into bags or containers and driven to market, or straight to restaurants that demand the freshest. For the best mussel houses in Brussels, trucks leave early in the morning for the 90 minute trip, making it in time for lunch.
At Volle Gas, another Brussels institution famous for its huge variety of mussel dishes, the shellfish is so fresh that it has to be scraped clean with a knife and hand-washed four times before the chefs are ready to throw them in the pot.
To make sure they are fresh, the chefs pry open a raw mussel and squeeze on some lemon juice. It will contract and move if it's fresh, says Edona Lloncari, the marketing director of Volle Gas, which means full speed in Flemish.
At Lloncari's restaurant, mussels are offered in any of 25 styles, including steamed with Champagne or wheat beer, dipped in curry sauce, raw or soaked in saffron.
In fact, Volle Gas's chefs will allow customers to order mussels cooked in pretty much any liquid they want, although they do have their limits.
Some Americans wanted us to put Coke in mussels, said Lloncari with a laugh, adding that while the hungry diners got their mussels, they were not cooked in Coca-Cola.
Volle Gas only serves mussels during the season, but Chez Leon keeps them coming all year round, encouraging clients to try them covered in cheese during May, June and July, when the molluscs tend to taste milkier.
For the traditionalists, mussels are usually cooked in white wine, celery and onions. A dish of hearty bare essentials. What's all the more remarkable is that such a flavoursome dish takes barely any time at all to cook, or actually, to steam.
As Vanlancker from Chez Leon explains, the key is the amount of steaming. Ideally the mussels and other ingredients are cooked for three minutes, or until steam flows out of the pot, and then, after a good shake around, are steamed again.
It can all be done in a little over five minutes, although nobody is, or should be, counting.
It's not about the minutes, it's about the steam, says Vanlancker. And the rest of the recipe must remain secret.
© Copyright Thomson Reuters 2023. All rights reserved.