'My Hero Academia' Chapter 269 Postponed As Shonen Jump Takes A Break Amid Coronavirus Pandemic
KEY POINTS
"My Hero Academia" Chapter 269 is delayed as Weekly Shonen Jump takes a break
Issue 21 will be releasing as combined Issue 21-22 on April 27
Along with "My Hero Academia," many other manga chapters include "Haikyuu!!" and "One Piece" are postponed
The Japanese Weekly Shonen Jump is on a hiatus and Issue 21, which was scheduled for release on Monday (April 20) in Japan, is delayed. The coronavirus pandemic has impacted the anime and manga industry resulting in delays.
Weekly Shonen Jump, owned by Shueisha, released a statement announcing the brief hiatus and postponement of Issue 21.
"The Japanese Weekly Shonen Jump is taking a week off on April 19th to protect their mangaka, editors and everyone else who works hard to bring you great manga every week. It's a precautionary measure, but a necessary one to ensure future chapters will come on a regular schedule. Thank you for your understanding, patience and support."
The statement added that the company "made the decision to delay the release of Weekly Shonen Jump, Issue 21 (scheduled for release on April 20 in Japan) by one week, and plan to release it on April 27 renumbered as combined Issue 21-22."
Moreover, manga chapters from Issue 21 slated for release in English on Manga Plus and Viz will also be postponed by one week.
List of manga delayed
"Haikyuu!!" Chapter 391
"Agravity Boys" Chapter 18
"Mission: Yozakura Family" Chapter 33
"Mitama Security: Spirit Busters" Chapter 34
"Dr STONE" Chapter 148
"Mashle: Magic and Muscles" Chapter 13
"Moriking" Chapter 2
"ACT-AGE" Chapter 110
"Undead Unluck" Chapter 14
"Chainsaw Man" Chapter 67
"Black Clover" Chapter 248
"Guardian of the Witch" Chapter 12
"Jujutsu Kaisen" Chapter 104
"We Never Learn" Chapter 156
"One Piece" Chapter 978
"Demon Slayer: Kimetsu no Yaiba" Chapter 203
Meanwhile, "My Hero Academia" Chapter 268 showcased Endeavor and Mirko dealing with several Nomus sent by Kyudai Garaki. Kyudai planned to keep the Pro Heroes busy as he tries to revive Shigaraki.
As Endeavor and others fight the Nomus, Mirko entered the facility where Shigaraki is kept.
She knew something was wrong as her Rabbit instincts were screaming. She was aware that Shigaraki should not come out.
Mirko attacked the vat, which housed Shigaraki, in an attempt to break it. The heroes arrived at the chamber and Mirko announced that Shigaraki should not wake up at any cost.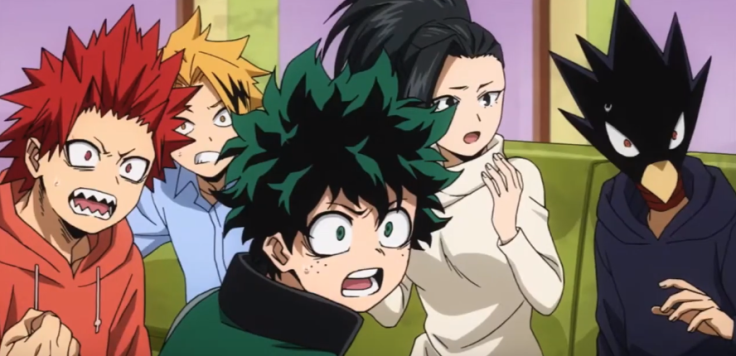 © Copyright IBTimes 2023. All rights reserved.