Naked Chris Cuomo Spotted In Wife's Instagram Live Yoga Session
KEY POINTS
TV reporter Chris Cuomo was seen completely naked in his wife's yoga session via Instagram Live
Chris' wife, Cristina Greeven Cuomo, posted the yoga video in late May where the CNN host was seen standing in the garden of their Southampton mansion in New York
Although the footage has been taken down, eagle-eyed fans were still able to capture a screenshot of the alleged incident
Chris Cuomo was reportedly caught naked in his wife's yoga video.
The CNN anchor made headlines yet again after being caught buck naked in the background of his wife's Instagram Live yoga session, New York Post reported. In the video, Chris, 49, was standing unclad in the garden of his Hamptons mansion while his wife Cristina, 50, was filming.
Although the footage showing a naked Cuomo was deleted quickly after it was filmed on May 27, eagle-eyed onlookers were still able to capture a screenshot of him. Meanwhile, CNN has yet to give a comment regarding the incident.
Previously, Cuomo was heavily criticized for a variety of issues, including his misleading views regarding the coronavirus quarantine up until the series of widely paneled interviews with New York Governor Andrew Cuomo, who is also his older brother.
The 49-year-old newsman is also fond of picking on his older brother Andrew, like teasing him for the size of his nose and for being their mother's favorite son, Fox News reported.
As for the controversial Instagram moment, Page Six also claimed to have reached out to the couple to confirm the now-widely circulated footage but to no avail.
The CNN host and journalist has been broadcasting his news analysis show, "Cuomo Prime Time," from the basement of his family's Hamptons property in New York in the wake of the coronavirus pandemic.
Previously, Cuomo had announced that he tested positive for COVID-19 in late March. His symptoms included shivering from high fever and hallucinations. It was also reported that his wife and 14-year-old son, Mario, had contracted the virus.
Following the news of the illness, Cuomo spent several weeks quarantined in the basement of their home and was only later reunited with his family in mid-April.
"This is the dream. Just to be back up here doing normal things," the TV reporter said as he filmed the reunion.
Despite this, Cuomo garnered backlash and was accused of staging the clip after he revealed that he had left his house on Easter Sunday amid the imposed nationwide quarantine.
His wife Cristina, who is also described as a "wellness" buff, sparked controversy when she reportedly endorsed bathing with one-half cup of Clorox bleach twice a week to boost her immune system on her blog, The Purist.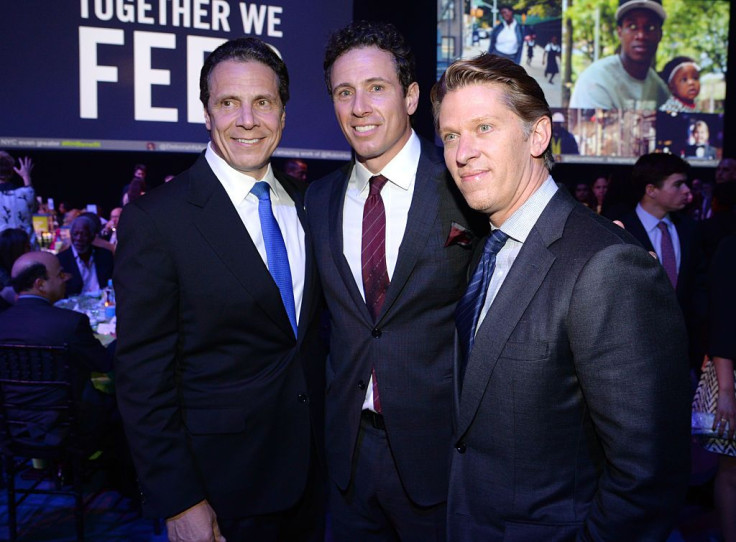 © Copyright IBTimes 2023. All rights reserved.