Naomi Judd Died Of Self-Inflicted Gunshot Wound; Daughter Ashley Suffers 'Trauma From Discovery'
KEY POINTS
Ashley Judd confirmed that her mom, Naomi Judd, used a firearm when she died of suicide
The "Double Jeopardy" actress admitted it was information they were very uncomfortable sharing
Ashley said her family tasked her to share the details of their mom's death to shed light on mental illness
Naomi Judd used a firearm when she died of suicide, her daughter Ashley Judd said.
The "Double Jeopardy" actress detailed her mom's final moments when she appeared on "Good Morning America" Thursday. Ashley was the one who discovered her mom's body and she confirmed that her mother used a firearm.
"She used a weapon. My mother used a firearm," she was quoted by Page Six as saying. "So that's the piece of information we are very uncomfortable sharing."
When news of Naomi's death made headlines, Ashley and her sister Wynonna only said that they lost their "beautiful mother to the disease of mental illness." Naomi's husband, Larry Strickland, didn't share any information but asked the public to give their family privacy. Days later, multiple unnamed sources confirmed to People that one-half of the iconic country music duo The Judd died of suicide.
According to Ashley, she visited her mom that day. She even remembered Naomi asking her if she would stay with her. She also shared how she found out about her death.
"It was a mixed day. So I see my Mom and Pop every day when I'm home in Tennessee. So I was at the house visiting as I am every day. And Mom said to me, 'Will you stay with me?' and I said, 'Of course, I will,'" she recalled. "I went upstairs to let her know that [her] friend was there, and I discovered her. I have both grief and trauma from discovery."
Ashley also explained that her speaking up about the details of her mother's death was approved by their family. She was tasked to share it to shed light on mental health.
"When we're talking about mental illness, it's very important to be clear and to make the distinction between the loved one and the disease," the "All That Is Bitter and Sweet: A Memoir" author added. "My mother knew that she was seen and she was heard in her anguish, and she was walked home."
Naomi died a day before she was inducted into the Country Music Hall of Fame with her daughter Wynonna. Ashley added that "the barrier between the regard in which [her peers] held her couldn't penetrate into her heart, and the lie that the disease told her was so convincing."
Ashley penned an emotional tribute to her mom to mark her first Mother's Day without Naomi by writing an essay for USA Today.
"My mama was a legend," Ashley wrote. "She was an artist and a storyteller, but she had to fight like hell to overcome the hand she was dealt, to earn her place in history. She shouldn't have had to fight that hard to share her gifts with the world."
If you have thoughts of suicide, confidential help is available for free at the National Suicide Prevention Lifeline. Call 1-800-273-8255. The line is available 24 hours, every day.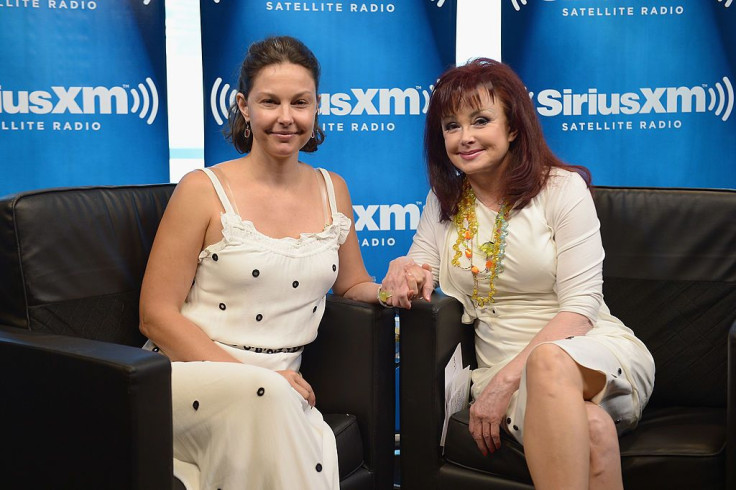 © Copyright IBTimes 2023. All rights reserved.
FOLLOW MORE IBT NEWS ON THE BELOW CHANNELS