NASA Astronauts Complete Unscheduled Spacewalk To Move Stalled Rail Car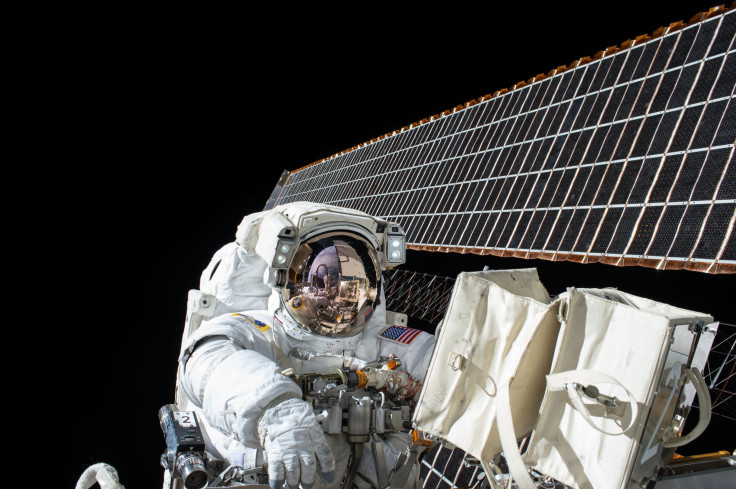 NASA astronauts Scott Kelly and Tim Kopra were called into action Monday for an unscheduled spacewalk outside the International Space Station. The craft's Mobile Transporter rail car stalled after being moved to a new location by Mission Control in Houston. Kelly and Kopra completed the spacewalk of more than three hours at 11:10 a.m. EST.
The Mobile Transporter is a rolling bracket that runs around the Integrated Truss Structure, the backbone of the International Space Station. It's used by controllers to move the robotic Canadarm2 outside the station so it can assist in docking procedures and assembly.
The Mobile Transporter stalled just four inches from its starting position, NASA reported, thanks to a faulty brake handle. For Kelly, currently in his eighth month aboard the space station, it was his third spacewalk, which NASA calls an extravehicular activity (EVA). For Kopra, who arrived at the space station last week, it was his second. NASA officials approved the mission Sunday, and the spacewalk began Monday at 7:45 a.m. EST.
Kelly and Kopra fixed the Mobile Transporter within the first hour of Monday's spacewalk. The rail car was moved by robotic flight controllers on the ground in Houston, to worksite 4. Kelly and Kopra were approved to complete the additional task during the EVA. The astronauts spent the next hour routing cables for docking adapters that will be used by Boeing and SpaceX in future commercial missions to the space station.
While the astronauts were busy completing tasks outside the space station, Kelly did have a moment to fulfill a request from European Space Agency astronaut Tim Peake. The British astronaut saw an opportunity to take a photo from inside the space station's cupola and asked Kelly to wave during the spacewalk. Peake and Russian cosmonaut Sergey Volkov were assisting with the exit and entry of Kelly and Kopra during the spacewalk.
Monday's spacewalk to move the rail car was done to prepare for the arrival of the Russian Progress cargo spacraft. The International Space Station Progress 62 launched from the Baikonur Cosmodrome in Kazakhstan at 3:44 a.m. EST. Progress is expected to arrive at the space station at 5:31 a.m. EST Wednesday.
© Copyright IBTimes 2022. All rights reserved.
FOLLOW MORE IBT NEWS ON THE BELOW CHANNELS