NASA Offers The Sharpest Video Yet Of Astronauts Eating 'Space Cheeseburgers' On International Space Station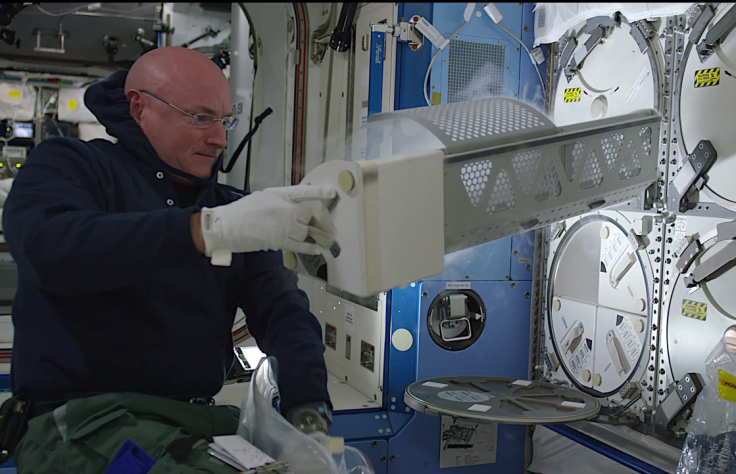 Now presenting the crispest image you've ever watched of astronauts in space. Well, you may have watched Gravity and Interstellar, but in NASA's new video series you'll gain access to the real deal. The first video, which premiered Monday, is the first of a series that NASA will release on life inside the International Space Station.
Not only does the footage provide sharp pictures of space, the video highlights what life is like aboard the International Space Station. This first 4-minute video devotes the opening minute and closing minute to video of Earth and space, while the middle scenes are of the astronauts at work, or at play.
For example, the reel shows two astronauts making and eating what they call "space cheeseburgers," which appears something like a taco with flying meat. NASA also notes that viewers will gain insight into not only the food experiments, but the other scientific work and activities done aboard the station.
"It will also bestow the most breathtaking views of planet Earth and space station activities ever acquired for consumption by those still dreaming of making the trip to outer space," NASA wrote in a statement.
NASA previously released 4K videos from ISS, but they were mostly timelapses of space, the Verge writes, rather than in a more documentary style such as this. In this series, viewers can almost feel like they are interacting with the passengers.
The clips are shot in 60 frames-per-second quality and have a 3480 x 2160 pixel 4K resolution (ultra high-definition). This resolution is high quality and therefore demanding on an average computer so be prepared to see glitches, Digital Trends notes.
All videos will be available on the ReelNASA channel on YouTube.
© Copyright IBTimes 2023. All rights reserved.
FOLLOW MORE IBT NEWS ON THE BELOW CHANNELS