NASA Scientists Create Largest High-Resolution Interactive Mosaic Of Moon's North Pole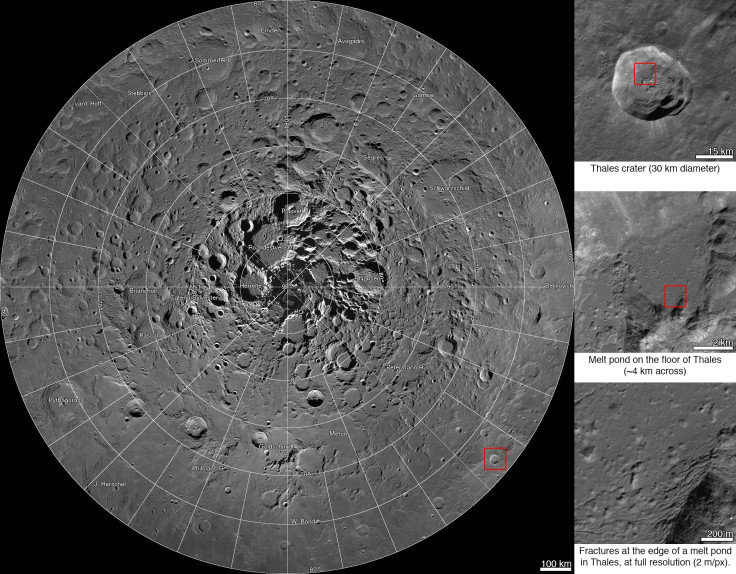 Scientists have used the cameras installed on NASA's Lunar Reconnaissance Orbiter, or LRO, to create the largest high-resolution mosaic of the moon's northern polar region, the space agency announced on Tuesday.
According to NASA, the mosaic, with a resolution of six-and-a-half feet-per pixel, allows viewers to zoom in and out, and pan around any image in the mosaic, which consists of 10,581 pictures, providing significant details about the lunar terrain's textures and the subtle shadings.
"This unique image is a tremendous resource for scientists and the public alike," John Keller, LRO project scientist at NASA's Goddard Space Flight Center in Greenbelt, Md., said in a statement. "It's the latest example of the exciting insights and data products LRO has been providing for nearly five years."
The images making up the mosaic were captured by two LRO Narrow Angle Cameras, which are part of the instrument suite called the Lunar Reconnaissance Orbiter Camera, or LROC. According to scientists, the cameras can record a dynamic range of lit and shadowed areas.
"Creation of this giant mosaic took four years and a huge team effort across the LRO project," Mark Robinson, principal investigator for the LROC at Arizona State University in Tempe, said in the statement. "We now have a nearly uniform map to unravel key science questions and find the best landing spots for future exploration."
NASA said that a complete printout of the entire mosaic, which measures 931,070 pixels square, or nearly 867 billion pixels in total, would require a sheet of paper wider than a professional U.S. football field.
In addition, if the complete mosaic were processed as a single file, it would require about 3.3 terabytes of storage space. In order to allow viewers to use the mosaic on a web browser, the processed image was divided into millions of small, compressed files.
LRO entered lunar orbit in June 2009, equipped with seven instrument suites, to map the moon's surface, probe the environment, investigate water and key mineral resources, and gather geological clues about the satellite's evolution, NASA said.
To view, zoom in and pan the mosaic, click here.
© Copyright IBTimes 2023. All rights reserved.