NASA's Orion Spacecraft Gets The Largest Heat Shield Ever Ahead Of December Launch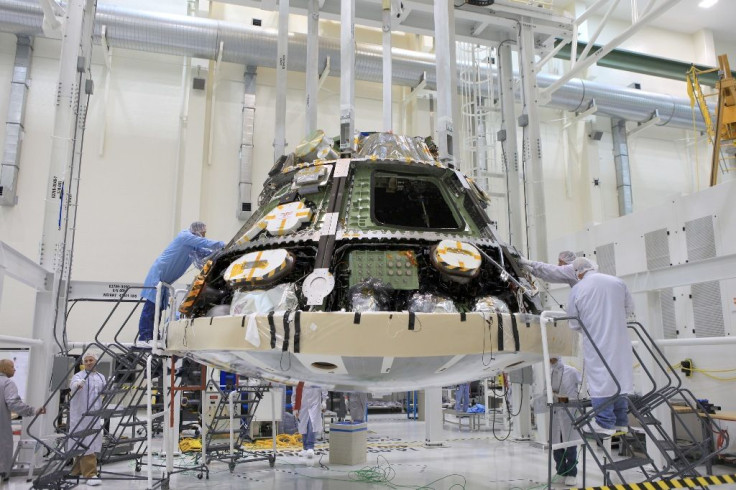 Engineers at NASA and Lockheed Martin have completed installing the largest heat shield ever constructed for the federal space agency's Orion spacecraft, which is scheduled to be launched in December.
Before that, NASA is scheduled to launch a test flight -- minus the crew -- of the Orion spacecraft 3,600 miles into space before returning it to Earth for a splashdown in the Pacific Ocean. The scientists believe that the spacecraft's test flight, called Exploration Flight Test-1, will help engineers examine the heat shield's ability to protect Orion and its future crew from the 4,000-degree Fahrenheit heat it will experience on its reentry into Earth's atmosphere at a speed of 20,000 miles an hour.
"It is extremely exciting to see the heat shield in place, ready to do its job," Mark Geyer, Orion program manager at NASA, said in a statement. "The heat shield is such a critical piece, not just for this mission, but for our plans to send humans into deep space."
According to NASA, the heat shield, which was manufactured at Lockheed Martin's Waterton Facility near Denver, is made of a coating called Avcoat, which prevents the transfer of extreme temperatures to the spacecraft's crew module. Avcoat is also covered with a silver reflective tape, which helps it resist the severe cold temperatures in space.
The test flight is expected to provide key data that could be helpful in improving the design of the heat shield and other systems inside the Orion spacecraft, which is expected to serve as a manned exploration vehicle. The process is also necessary to reduce both risks and costs of future Orion missions, which will be launched to explore asteroids and Mars, NASA said.
Engineers at NASA's Marshall Space Flight Center in Huntsville, Ala., have developed a new adapter to connect the Orion to the United Launch Alliance Delta IV Heavy rocket, which will launch the spacecraft on its test flight in December.
"In the future, Orion will launch on NASA's new heavy-lift rocket, the Space Launch System," NASA said, on its website. "More powerful than any rocket ever built, SLS will be capable of sending humans to deep space destinations such as an asteroid and eventually Mars."
© Copyright IBTimes 2023. All rights reserved.
FOLLOW MORE IBT NEWS ON THE BELOW CHANNELS