National Anthem Day 2021: 12 Worst 'Star-Spangled Banner' Performances On TV [Watch]
National Anthem Day is observed on March 3 each year to celebrate the song chosen to represent the American identity.
"The Star-Spangled Banner" has been sung by numerous people in numerous events since it became the nation's official anthem on March 3, 1931. While there have been some outstanding renditions — like Whitney Houston's at the 1991 Super Bowl — there have also been a few that did not get rave reviews.
For National Anthem Day 2021, here are 12 of the worst performances of "The Star-Spangled Banner" on live television.
1. Christina Aguilera
Christian Aguilera did manage to execute the song beautifully at Super Bowl 45 in 2011, but unfortunately, she missed a few key lyrics. The singer struggled to remember the words to the national anthem — a mishap that she later apologized for.
2. Desiree Coleman Jackson
Before anyone decides to hire the coach's wife to sing the national anthem at an event, at least give it a second (maybe a third) thought first.
Desiree Coleman Jackson was off to an OK start when she started singing "Star-Spangled Banner" but lost it toward the end, adding and twisting notes that made even the players have to stifle a laugh.
3. Victoria Zarlenga
During a U.S.-Scotland soccer match in 2010, Victoria Zarlenga did a good job at lifting people's spirits. By the time Zarlenga finished singing the national anthem, the audience and even the players were cracking smiles and laughing because of her amusing performance.
4. R. Kelly
Now this one is for the books. For the 2005 Bernard Hopkins vs. Jermain Taylor boxing match, the R&B singer made a soul arrangement of the national anthem -- even hiring Chicago step dancers to go with it. And although R. Kelly's voice flowed smoothly throughout the song, many people found the whole improvisation unnecessary.
5. Caroline Marcil
Caroline Marcil's performance during a U.S.-Canada hockey game is a perfect example of a bad day at work. Just a few moments after the song began, Marcil suddenly stopped, muttering a little "Sorry" before starting over again...only to stop once more mid-song.
But it doesn't stop there. Once the singer came back out to attempt to sing for the third time, she slipped on the ice skating rink and laid there for a solid two seconds before completely giving up.
6. Michael Bolton
Everyone has probably done it. Scribbling notes on a hand for a quiz or a report. Michael Bolton did that too, except on national television. And it wasn't for a presentation in a classroom, it was during a 2003 performance of the country's national anthem.
7. Keri Hilson
Similar to Aguilera's little mishap, Keri Hilson forgot the lyrics to "Star-Spangled Banner" and repeated herself.
8. Luke Bryan
Yet another singer who wrote the lyrics of the national anthem on his hand, Luke Bryan appeared to be reading the words as he performed during an All-Star Game in 2012.
9. Natalie Gilbert
13-year-old Natalie Gilbert was battling the flu when she sang at a Portland Trail Blazers game in 2003. The young singer forgot the words when then-Blazers head coach Maurice Cheeks swooped in to give her another voice to complete the song.
10. Alexis Normand
At this point, a singer forgetting the lyrics to the national anthem isn't as surprising anymore. In Alexis Normand's case, the singer tried to fill in the gaps with hums as she struggled to recall the right words.
11. Carl Lewis
This national anthem fail is one of the more entertaining ones. As Carl Lewis' voice cracks while singing at a 1993 game between the New Jersey Nets and the Chicago Bulls., the singer stopped to utter, "I'll make up for it, now," leaving people laughing.
12. Fergie
The 2018 NBA All-Star game national anthem fiasco became a trending topic on social media as singer Fergie was chosen to perform "Star-Spangled Banner." The audience seemed to be happy with the singer's creative rendition of the song, with some even struggling to hold back their laughs during the supposedly solemn moment.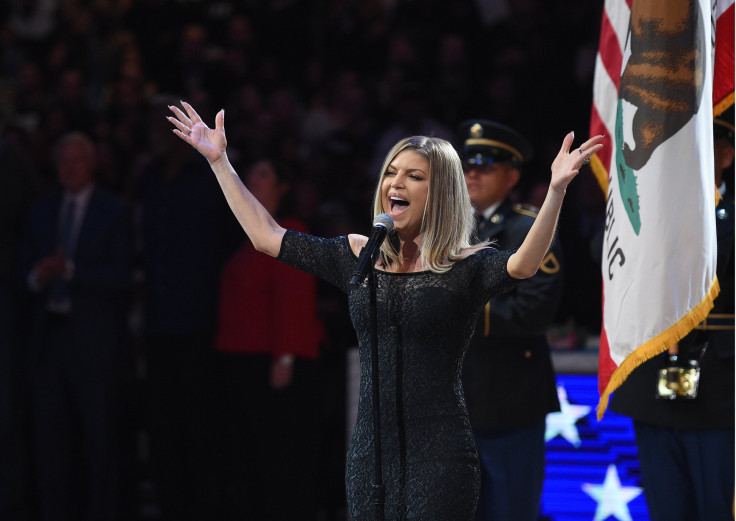 FOR FREE to continue reading
✔️ Unlock the full content of International Business Times UK for free
offer available for a limited time only
✔️ Easily manage your Newsletters subscriptions and save your favourite articles
✔️ No payment method required
Already have an account? Log in
© Copyright IBTimes 2023. All rights reserved.