National Burger Day 2015: The Best, Biggest And Boldest Patties In America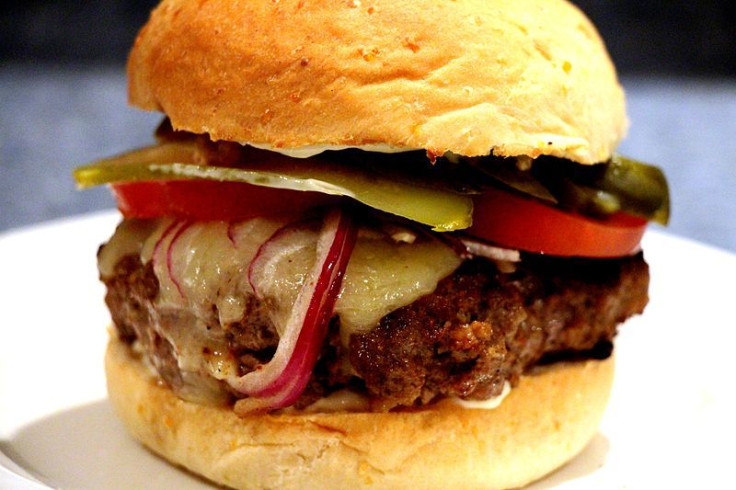 For those who salivate at the mere mention of a delicious, juicy hamburger, today is your day. National Burger Day 2015 is all about celebrating – and savoring – one of Americans' favorite comfort foods. The unofficial but no less gratifying holiday is observed annually on May 28 as a kickoff to summer when Americans everywhere begin firing up their outdoor grills.
While the history of the American hamburger as it is known today can be traced to the late 19th century, when a café in Athens, Texas, began selling the sandwiches, it's true origins are something of a mystery. Hamburger patties originated in Hamburg, Germany, but eating a burger on a bun is as American as baseball and apple pie.
The hamburger has gone through many iterations since its early years but has always included various trimmings, including lettuce, pickles and onions. The modern hamburger, composed of a ground beef patty sandwiched between two buns, appeared during World War I, according to FoodReference.com. The first American hamburger fast food chain was White Castle, which opened its first store 93 years ago in Wichita, Kansas.
What better way is there to celebrate National Burger Day than by indulging in one of tastiest burgers America has to offer? Here are some of the best, biggest and boldest burgers around.
1. The "Ladder 7" burger. Smoked gouda, pancetta and garlic-herb aioli crown this beast of a burger. It's is the brainchild of Boca Raton, Florida firefighter Alex Callegari. Here's more about the burger and how you can make it yourself.
2. The Big Stuff Bacon Meltdown. It's hard to make a great burger even better, but throw on some bacon and that's exactly you'll get. Good Stuff Eatery in Washington, D.C. takes big, delicious burgers to a whole other level.
3. The Company Burger. House made bread gives this double patty, New Orleans burger a true made-fresh taste. Find out more about it here.
4. In-N-Out Burger. Californians have been bragging about this West Coast staple for years. Could it be the secret, homemade sauce that has them lining up for more?
5. Love Stinks. Don't plan on kissing anyone after chomping into this garlic, roasted garlic cream cheese, fried onion strings and roasted red peppers-fueled burger from Crave in Colorado.
6. ShakeBurger. This signature patty from New York restaurateur Danny Meyer is simple yet elegant. No frills here – just fresh ingredients served in a grilled potato bun. Find it at Shake Shack.
7. The avocado burger. You'll have to get off the mainland for this one, but it'll be well worth the trip. Giant cuts of fresh avocado top this favorite Hawaiian burger.
8. The Milwaukee Burger. This burger from AJ Bombers in Milwaukee, Wisconsin has been featured on the Travel Channel's "Food Wars" – and for good reason. Find out why for yourself.
© Copyright IBTimes 2023. All rights reserved.