Turkey Anti-ISIS, Kurdistan Workers' Party Airstrikes In Iraq: Bombings Against Kurdish Militants, Islamic State Come As NATO Meeting Convenes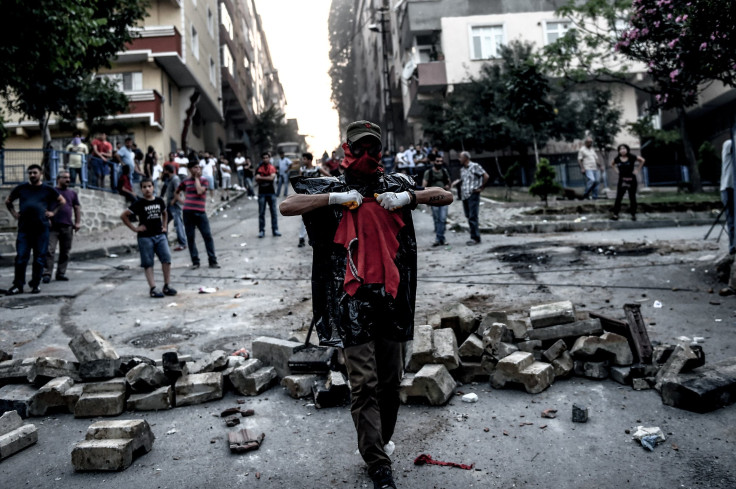 Turkish armed forces launched new airstrikes Sunday against Kurdish militants in northern Iraq just as a NATO meeting was convening, Agence France-Presse reported. Officials in Turkey's capital of Ankara called a meeting about the military alliance against the outlawed Kurdistan Workers' Party (PKK) and the Islamic State group, also known as ISIS or ISIL.
In response to a slew of recent bombings and protests, Turkey commenced a "two-pronged anti-terror cross-border offensive" against both ISIS jihadists and PKK militants using airstrikes and artillery, ABC News reported. The airstrikes were launched as protests intensified in Gazi, the flashpoint district of Istanbul, where clashes with protesters Sunday left one police officer dead. Earlier Sunday, the Turkish military had blamed PKK militants for a deadly car-bomb attack that killed two of its soldiers in the Kurdish-dominated southeast.

Turkish F-16s reportedly were launched from Diyarbakir in southeastern Turkey towards the PKK's rear bases in Mount Kandil, CNN-Türk and NTV reported. Around 9 p.m. local time, "Turkish planes started bombing some of our positions in two areas" north of Dohuk and north of Arbil, Bakhtiar Dogan, a spokesman for the PKK in Iraq, old AFP.
The PKK said Saturday that a ceasefire was no longer being observed following the heaviest airstrikes on its positions in northern Iraq carried out since August 2011, ABC News reported.
Turkey's cross-border campaign was initially launched against ISIS targets in Syria, but has since expanded to include the PKK rebels in neighboring northern Iraq, who also oppose the jihadists.
Protests have been ongoing in Turkey since police started targeting suspected militants following the recent terror attacks. However, a Turkish government official said the military was not targeting Syrian Kurds despite Kurdish forces claiming tanks fired at Kurdish-controlled villages in northern Syria. "The ongoing military operation seeks to neutralize imminent threats to Turkey's national security and continues to target ISIS in Syria and the PKK in Iraq," the government official said.
Turkish security forces have detained at least 851 suspected members of ISIS, the PKK and the Marxist Revolutionary People's Liberation Party Front across the country since Friday, claiming they posed a threat to the state, the Anatolia news agency reported.
© Copyright IBTimes 2023. All rights reserved.