Netflix Thanksgiving Episodes 2022: Over 25 Turkey Day Themed Specials To Stream
The holiday season is officially here, and with the beginning of the happiest time of year comes Thanksgiving—a day devoted to family time and plenty of food.
Of course, considering the massive feast that will take place at homes across the country, following the meal there likely isn't going to be a lot of desire to do too much, which makes it the perfect time to sit on the couch and watch some holiday-appropriate episodes of favorite TV shows on Netflix. Check out this handy guide of everything you can watch that will let you relax after your large meal, but also remind you of what the holidays are all about.
"Alexa and Katie" Season 1, Episode 10- "Thanksgiving"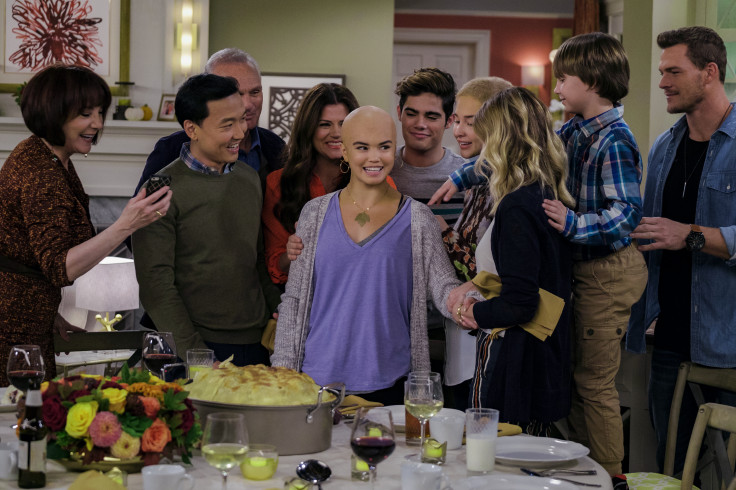 Alexa insists on cooking Thanksgiving dinner, but Lori has trouble letting go. Katie's desperate to connect with her dad on a deeper level.
"Arrow" Season 6, Episode 7- "Thanksgiving"
There's no rest for Green Arrow. Oliver, Felicity and William's Thanksgiving is interrupted when Black Siren wreaks havoc on the holiday.
"Crazy Ex-Girlfriend" Season 1, Episode 6- "My First Thanksgiving with Josh!"
Rebecca gets herself invited to Thanksgiving dinner with the Chans, who like her better than Valencia. Meanwhile, Greg makes a sacrifice for his dad.
"Dynasty" Season 1, Episode 7- "A Taste of Your Own Medicine"
Thanksgiving with the Carringtons is a full-scale affair with football, food—and family drama. Cristal's houseguest serves up a shocking surprise.
"Dynasty" Season 2, Episode 6- "That Witch"
When bad weather—more specifically, a tornado—brings everyone together for a dark and stormy Thanksgiving, Fallon finds there's no place like home.
"F is for Family" Season 5, Episode 4- "Thank You So Much"
On Thanksgiving, Sue stresses over her family's visit, Vic begs his neighbors for help soothing the baby, and Bob's big dream suffers a setback.
"Fuller House" Season 2, Episode 6- "Fuller Thanksgiving"
The house feels overstuffed when the entire Tanner family shows up for Thanksgiving, pushing DJ's organizational skills into overdrive.
"Fuller House" Season 5, Episode 12- "Cold Turkey"
Holiday traditions go out the window when Steph cooks her first Thanksgiving dinner—and Danny, Jesse and Joey get locked inside a freezer.
"Gilmore Girls" Season 3, Episode 9- "A Deep-Fried Korean Thanksgiving"
Lorelei and Rory have four Thanksgivings when they stop for celebrations with Lane, Sookie and Luke on the way to dinner with Richard and Emily.
"Girlfriends" Season 1, Episode 9- "Fried Turkey"
When everyone bails on Joan's Thanksgiving dinner, she finds herself entertaining other guests.
"Grey's Anatomy" Season 2, Episode 9- "Thanks for the Memories"
The Thanksgiving holiday is more difficult for the interns and residents than any of them is willing to admit.
"Grey's Anatomy" Season 6, Episode 10- "Holidaze"
As Thanksgiving, Christmas and New Year's pass, Miranda is visited by her father, who disapproves of her choices in life.
"Grey's Anatomy" Season 10, Episode 10- "Somebody That I Used To Know"
While Meredith plans Thanksgiving dinner with Emma's help, Ben confides in Derek that he thinks Bailey has OCD, and Richard has a health setback.
"Master of None" Season 2, Episode 8- "Thanksgiving"
Over a series of Thanksgiving from the '90s to the present, Denise settles into her sexuality and faces the challenge of coming out to her family.
"NCIS" Season 12, Episode 9- "Grounded"
Surrounded by Thanksgiving travelers at the airport, Bishop and her husband work with DiNozzo on a case involving an elevated terrorist threat.
"NCIS" Season 13, Episode 10- "Blood Brothers"
At Thanksgiving, Bishop goes home to Oklahoma while the team works on holiday plans and tries to solve a case involving forgery, murder and leukemia.
"New Girl" Season 1, Episode 6- "Thanksgiving"
Things go horribly awry when Jess invites a music teacher—whom she's always had a crush on—to the gang's Thanksgiving dinner at the loft.
"New Girl" Season 2, Episode 8- "Parents"
Jess enlists help for a "Parent Trap" scheme when her divorced parents visit for Thanksgiving. Meanwhile, Schmidt deals with his own family drama.
"New Girl" Season 3, Episode 10- "Thanksgiving III"
The group gets a lesson in roughing it when Jess and Nick decide they should celebrate Thanksgiving in the wilderness.
"New Girl" Season 4, Episode 9- "Thanksgiving IV"
With everyone single at Thanksgiving, Schmidt introduces "Bangsgiving," for which each person is to bring a friend to sleep over with another friend.
"New Girl" Season 6, Episode 7- "Last Thanksgiving"
Schmidt's dad is in town to celebrate Thanksgiving, but despite Jess's best efforts, the feast and festivities don't go according to plan.
"Orange is the New Black" Season 1, Episode 9- "F***sgiving"
Thanksgiving arrives with the promise of a visit by Larry, but Piper's raunchy dance moves land her in solitary with a holiday feast of moldy bologna.
"Riverdale" Season 4, Episode 7- "Chapter Sixty-Four: The Ice Storm"
The weather turns frightful as Riverdale celebrates Thanksgiving...with a not-so-cheery series of tense confrontations and twisted revelations.
"Seinfeld" Season 6, Episode 8- "The Mom & Pop Store"
Kramer takes all of Jerry's shoes to get cleaned. George brags about buying Jon Voight's car. The gang goes to Tim Whatley's Thanksgiving party.
"Shameless" Season 2, Episode 11- "Just Like the Pilgrims Intended"
While Fiona plans a nice Thanksgiving, Monica becomes more depressed than ever, and Steve's plan to win back Fiona gets complicated.
"Sister, Sister" Season 3, Episode 9- "Thanksgiving in Hawaii (Part 1)"
When Ray and Lisa take the girls to Hawaii for Thanksgiving, they run into their exes—who have begun dating each other.
"Sister, Sister" Season 3, Episode 10- "Thanksgiving in Hawaii (Part 2)"
While Ray and Lisa frantically search for the twins in Hawaii, Roger opens the Campbell/Landry home to the homeless for Thanksgiving dinner.
"Unbreakable Kimmy Schmidt" Season 2, Episode 13- "Kimmy Finds Her Mom!"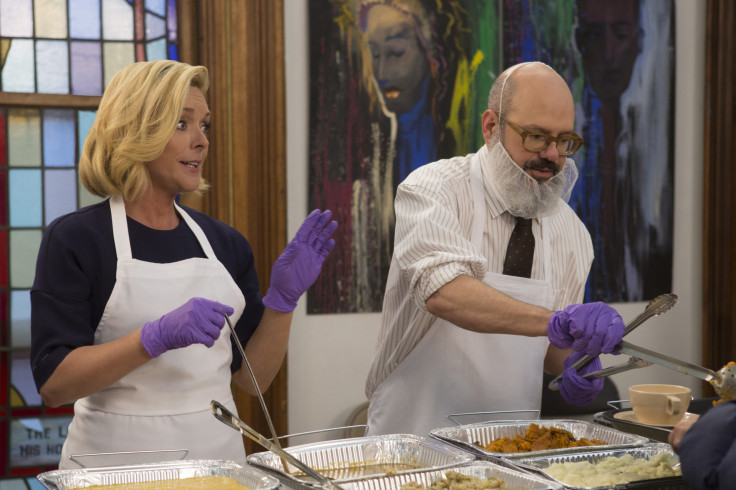 While Kimmy reunites with her mom at Universal Studios, Titus heads to Miami. Jacqueline invites Russ and his family to Thanksgiving dinner.
© Copyright IBTimes 2023. All rights reserved.
FOLLOW MORE IBT NEWS ON THE BELOW CHANNELS