New Apple MacBook Air Specs Released Before WWDC 2012 [REPORT]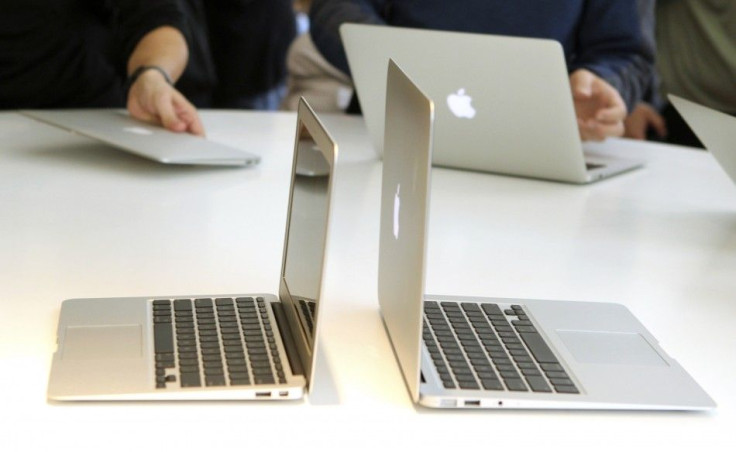 We're just a few hours away from the start of the 2012 Worldwide Developers Conference (WWDC) in San Francisco, which is expected to be one of the biggest Apple events of the year. At this event, spanning from June 11-14, we expect to see the Cupertino, Calif.-based computer company unveil new products, including more than a dozen new Mac computers and next-gen Apple accessories, as well as make some announcements for upcoming software releases, including OS X Mountain Lion and iOS 6, the mobile operating system for iPhone and iPad.
This morning, 9 to 5 Mac, which originally reported on the four new Mac lines coming to WWDC, released new technical specifications and details about the new Mac Pro and new MacBook Pro computers. Hours later, we received even more specs, this time about Apple's thinnest laptop, the MacBook Air.
Good news for people who like thin, powerful notebooks: Word is Apple will unveil two models of the new MacBook Air laptop -- featuring 11-inch and 13-inch screens -- with three configurations each, including a base model, a better model, and a high-end best model. All computers start at 4 GB of RAM and max out at 8 GB on the high end. Fans of the 13-inch model may want to pick the high-end configuration: That computer manages to squeeze in an incredible 512 GB solid-state drive (SSD), which will be roughly twice as fast as the current-generation laptops.
Here are the full specs for the 11-inch MacBook Airs:
Base: MD223LL/A - MBA 11.6/1.7/4/64FLASH-USA/li>
Better: MD224LL/A - MBA 11.6/1.7/4/128FLASH-USA
Best: MD845LL/A - MBA 11.6/2.0/8/256FLASH-USA
And here are the specs on the 13-inch MacBook Airs.
Base: MD231LL/A - MBAIR 13.3/1.8/4/128FLASH-USA
Better: MD232LL/A - MBAIR 13.3/1.8/4/256FLASH-USA
Best: MD846LL/A - MBAIR 13.3/2.0/8/512FLASH-USA
The MacBook Airs are expected to start at $1,099 for the 11-inch model, and $1,349 for the 13-inch model.
For those who also don't know about the specs released about the other models, we have those too. Citing reliable sources, 9 to 5 Mac also posted specs for the new Mac Pro computers:
Normal configuration: 3.2GHz quad-core processor, 6GB of RAM, 1TB hard drive, and the ATI Radeon 5770 graphics chip.
Normal configuration: 2.4GHz 12-core processor, 12GB of RAM, 1TB hard drive, and the ATI Radeon 5770 graphics chip.
Server configuration: 3.2GHz quad-core processor, 8GB of RAM, Two 1TB hard drives
And finally, we also got some released specs for the new MacBook Pro laptops:
13.3 inch: 2.5GHz dual core processor, 4GB of RAM, 500GB hard drive
13.3 inch: 2.9GHz dual core processor, 8GB of RAM, 750GB hard drive
15.4 inch: 2.3GHz quad core processor, 4GB of RAM, 500GB hard drive
15.4 inch: 2.6GHz quad core processor, 8GB of RAM, 750GB hard drive (BTO upgrades to 2.7GHz quad core and 1TB HD will be available)
We'll receive confirmation once the conference starts to see if these specs are accurate.
WWDC 2012: What Else Will We See?
This will be the first Apple developer's conference without founder Steve Jobs, but WWDC 2012 could be the biggest one yet. If the reports are true, in addition to the aforementioned computers, Apple will also release several new accessories, as well as unveil new operating systems for the Mac, iPhone and iPad. Here's what we know so far:
New Airport Express: One of the accessories listed in the inventory sent to Australian resellers was for part number MC414, described as K31 Best, which appears to have a price tag of about $119. Experts believe this price correlates with a new AirPort Express Wi-Fi device. There's also a slight possibility this could be a new Time Capsule base station, which would likely include a capacity upgrade, but most believe this product is an AirPort Express. Estimated price: $119.
New iMacs: Two pairs of model numbers (J30 and J31) listed in that same inventory correlate with four Apple products that cost anywhere from $1,000 to $2,000: These are likely new iMac desktop computers. Apple hasn't updated its iMac line in a few years now, and these price points certainly fit: Apple sells iMacs between $1,199 and $1,999. Esimated prices: 21-inch models at $1,349 and $1,689; 27-inch models at $1,999 and $2,499.
OS X Mountain Lion: Earlier this year, Apple announced Mac OS 10.8 Mountain Lion, the new operating system for Mac that takes several cues and features from the popular iOS platform for iPhones and iPads. But at WWDC, Apple is expected to not only show off more developer tools to create better Mac apps, but also give a release date on the operating system. OS X Mountain Lion will include and explain some of the new features of Mountain Lion, including deeper iCloud integration, deep integration with social networks like Twitter (and possibly Facebook), and Gatekeeper, the new security feature for Mac that assigns developers unique IDs and digital signatures for safety's sake.
A New Retina-Display MacBook: Three days ago, a new report from KGI Securities analyst Ming-Chi Kuo claims Apple will unveil a brand-new Mac notebook equipped with a Retina Display, which is simply being referred to as MacBook. The computer will reportedly be offered alongside the refreshed MacBook Pro, MacBook Air, iMac and Mac Pro models. The computer specs included one of Intel's new 2.5 GHz Ivy Bridge processors, along with an improved Intel HD Graphics 4000 GPU, Bluetooth 4.0 (a.k.a. Smart Bluetooth), and USB 3.0. Kuo also believes the computer will feature many of the same specs from the current line of MacBook Pros, including 4 GB of memory, a 500 GB hard drive that runs at 5,400 rpm, an 8x slot-loading SuperDrive, and a ThunderBolt port (whether or not it's for the second-generation of Thunderbolt, Cactus Ridge, is unclear).
Of course, a Retina Display on a Mac would be quite an achievement. If the rumors are true, this computer's display would beat out the 1280 x 800 pixel display with a whopping 2800 x 1800 pixel resolution.
iOS 6: On Friday, several San Francisco residents snapped photos of banners being raised in the Moscone Center's west exhibition hall, one of the WWDC event sites, for the world's most advanced operating system, iOS 6. The new iPhone and iPad OS is expected to include many features from OS X Mountain Lion for the sake of merging the two experiences, as well deep integration with Facebook, redesigns to its App Store, iTunes Store and iBookstore, and a new Apple-made Maps application.
* * *
Out of everything Apple is expected to announce and release, what makes you the most excited? Is it details about iOS 6, or is it the more powerful Macs? Let us know in the comments section below.
© Copyright IBTimes 2023. All rights reserved.
FOLLOW MORE IBT NEWS ON THE BELOW CHANNELS